As everybody knows, 5G(NR) is not the only cellular technology. We already have many different technology that has been deployed for many years from 2G to 4G. In terms of physical location, 5G(NR) may co-located (deployed at the same location) with every existing technlogy even though there might not be direct interaction or integration with those legacy technology. However, in terms of interaction / integration, it is highly likely that 5G(NR) will tightly integrate or interact with 4G(LTE). In this page, I will describe on various scenario and aspect of 5G deployment. Since this is at very high level description, it will be mostly explained by various illustrations (mostly from 3GPP document).
We can think of many different ways to layout 5G/NR cell. Some of the possible scenario is shown in this section based on TR 38.804. But there can still be more options which is completely new or modification of the cases shown here.
< Case 1 >
In this scenario, LTE and NR are co-located/overlaid. It means NR cell is placed in the same location as LTE cell implying that NR cell use the same cell site and highly likely to use to same antenna tower. One thing to be noticed would be that LTE and NR coeverage is same. It implies that this scenario would not be the one for NR mmWave (FR2) since it will be very difficult to have such a wide cell coverage with NR mmWave. Even in FR1, this scenario would be tricky for the frequency band which is 3 Ghz or higher.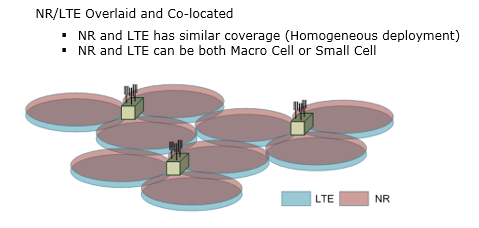 < Case 2 >
Probably this may be a practical solution for early NR deployment where LTE takes the role of a master and NR takes the role of secondary cell. This can be applicable to both NR FR1(Sub 6) and FR2(mmWave).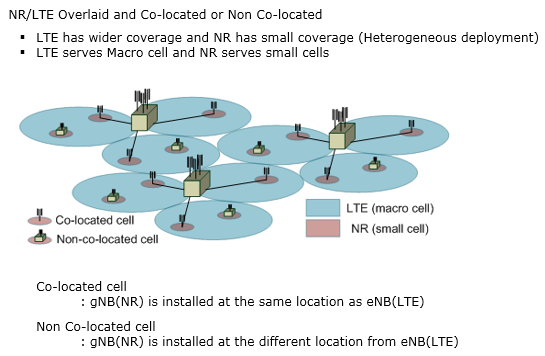 < Case 3 >
I am not sure if we really see this type of deployment or not. In this scenario, NR is macro cell covering wide area and LTE is small cell which covers less area. It is likely to be assumed that NR cell work in SA(Standalone) mode in this scenario.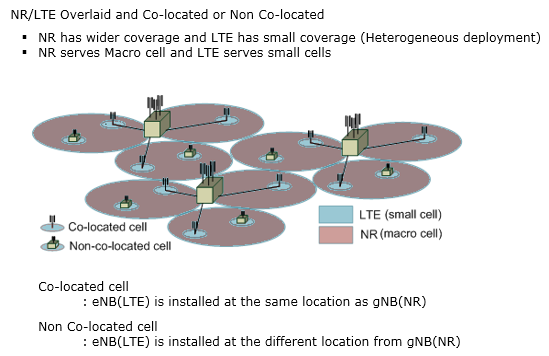 Even if the final goal of 5G/NR deployment would be to deploy 5G/NR in both RAN(Radio Access Network) and Core Network, it is not likely that this happen all at once from day one. So we may see (or think of) various intermediate steps from the first deployment to the final goal. 3GPP TR 38.804 and TDoc RP-161266 propose various options for the deployment. Even though RP-161266 came out much earlier than TR 38.804 and TR sounds more formal than RP, it seems that people still prefers to refer to RP 161266. However, whatever document you refer to, one thing obvious would be that we will see the deployment of NR with a LTE anchor at the early stage. This is Case 4 in TR 38.804 representation and Option 3/3a in RP-161266 representation. Regarding the options in RP-161266, I think there are articles that is written much better than I can do in terms of high level overview. Refer to Martin Sauter's two articles (this and this) and for more details on option3, refer to this page. In reality, this first stage option is implemented in a name called ENDC and you can use this page as a starting point of the detailed study.
< TR 38.804 >
We can think of roughly two large catetories of RAN/Core Network connection. One is to use LTE cell as a Master and NR cell as a secondary cell. The other one is to use NR cell as a Master and LTE cell as a secondary. Within each categories, we can think of a few different options. In early deployment, it is likely to use < Case 4 > where LTE functions as a master and NR functions as a secondary cell.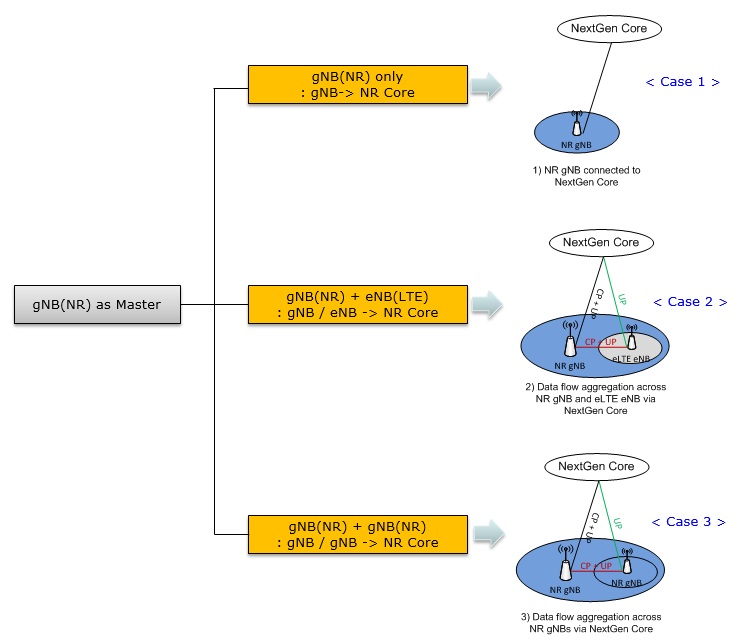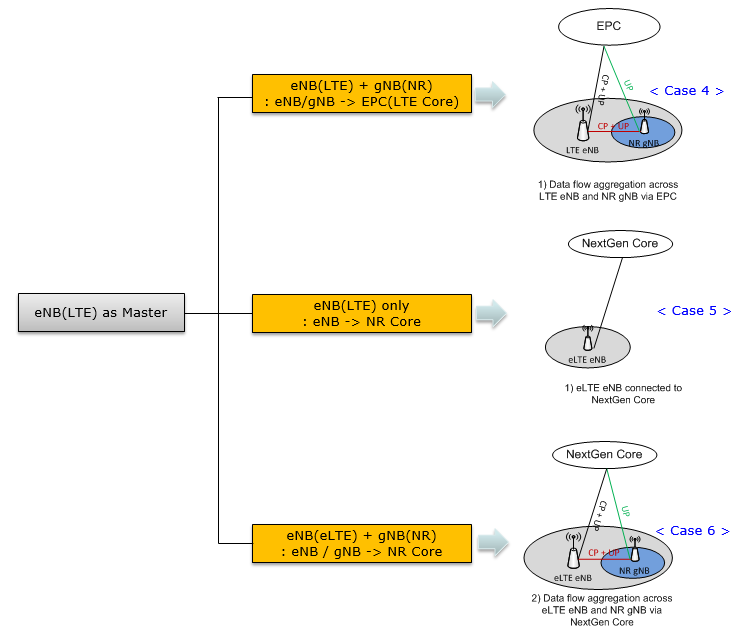 < RP-161266 >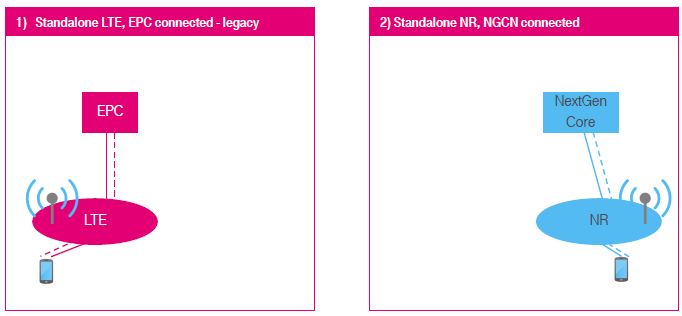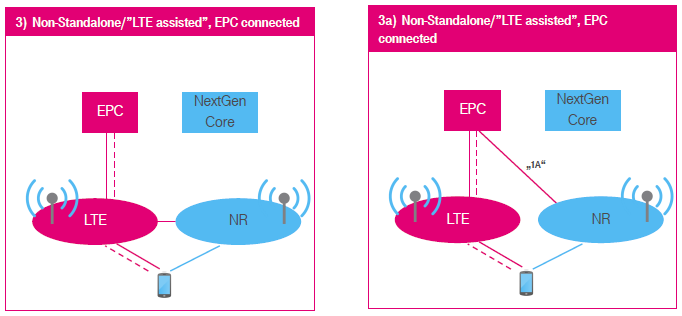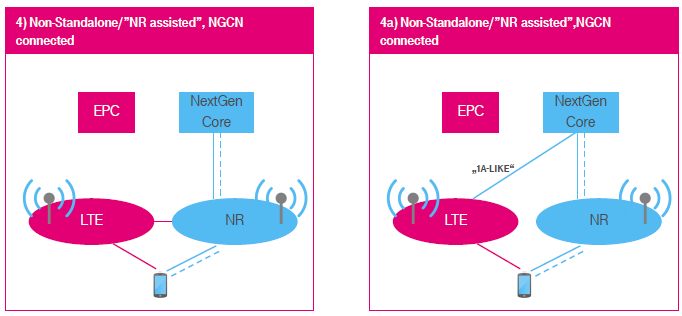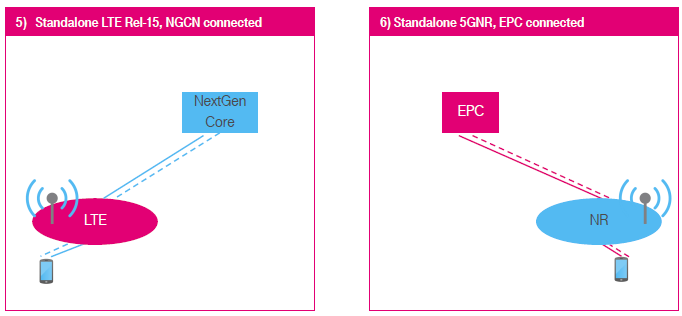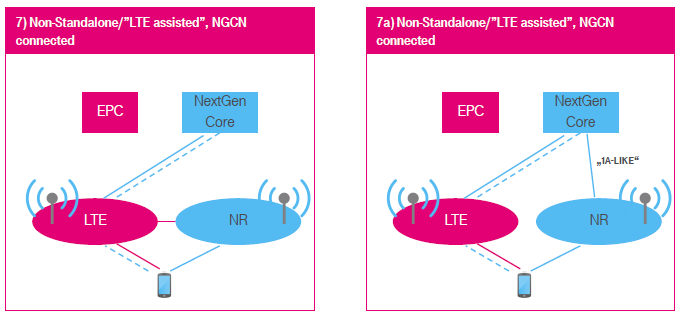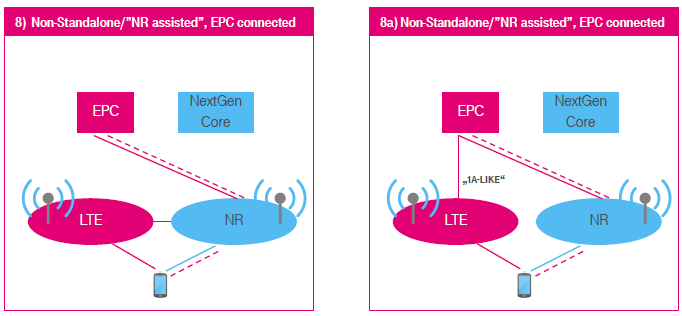 Overall Radio Network Architecture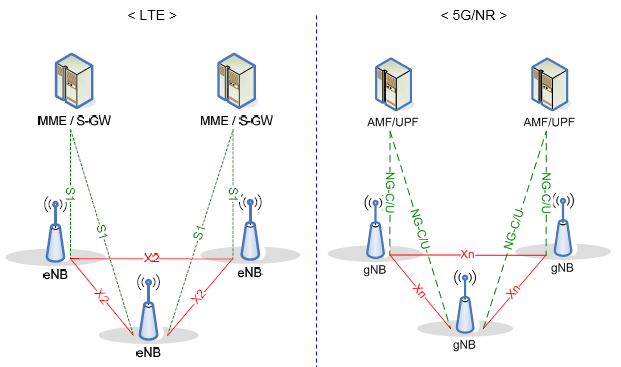 Bearer Architecture for Dual Connectivity between LTE and NR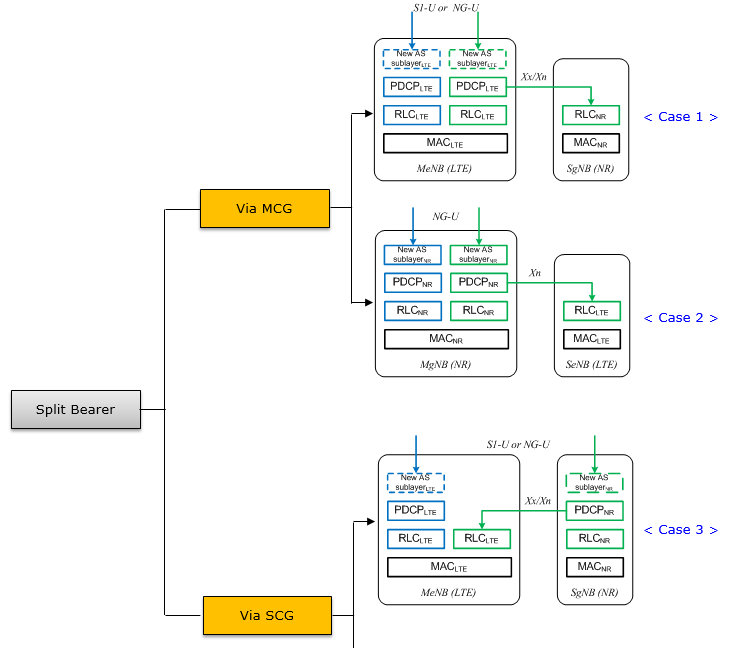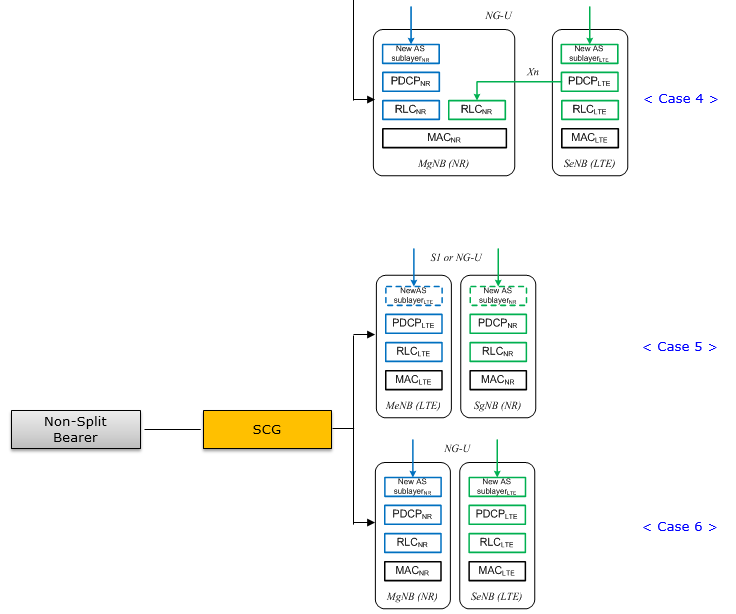 Reference
[1] 3GPP TR 38.804 V1.0.0 (2017-03) Study on New Radio Access Technology;Radio Interface Protocol Aspects
[2] 3GPP TR 36.842 V12.0.0 (2013-12) Study on Small Cell enhancements for E-UTRA and E-UTRAN; Higher layer aspects
[3] RP-161266 : 5G architecture options – full set
[4] WirelessMoves : 5G Beyond Option 3 – Pt. 1
[5] WirelessMoves : 5G Beyond Option 3 – Pt. 2