LTE-BL/CE (LTE-M1) - MAX Throughput
Just in terms of theoretical throughput, M1 Downlink Max throughput is same as DL Category 0 which is 1 Mbps, but considering the repetivity scheduling, MPDCCH and PDSCH in separate subframes, Half Duplex operation, it will not be easy to achieve this throughput. The practical throughput may vary widely depending on DL / UL scheduling.
< 36.306 v13.4 - Table 4.1A-1: Downlink physical layer parameter values set by the field ue-CategoryDL >

36.213-8.6.1 Modulation order and redundancy version determination and 8.6.2 Transport block size determination states as follows :
< 36.213-Table 8.6.1-2: Modulation and TBS index table for PUSCH >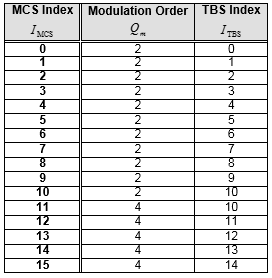 As mentioned above, real max throughput for user data can vary greatly depending on how eNB schedule the DL / UL transmission. General factors to influence the max throughput for user data are as follows :
Following is one example of scheduling pattern for user data. If we assume that eNB assing max TBS (i.e, 1000) the throughput will be around 300 Kbps DL and 300 Kbps UL.
< Example of User Traffic scheduling in Half Duplex mode >
Sub Frame

Transmitted Channel

Direction

PDSCH

MPDCCH(DL)

MPDCCH(UL)

PUSCH/PUCCH

0

UE

<--------------

eNB

1

UE

<--------------

eNB

2

UE

<--------------

eNB

3

UE

eNB

4

UE

-------------->

eNB

5

UE

-------------->

eNB

6

UE

-------------->

eNB

7

UE

eNB

8

UE

<--------------

eNB

9

UE

<--------------

eNB
Reference :
[1]