Transport Selection and Port Number Determination
Recently I have been experiencing some of the issues while testing IMS which is related to Transport Selection (TCP/UDP selection) or Port Number setting.
I haven't got clear understandings of all the details behind these issues that can be stated in this page, but I thought it would be good time to start posting something. This page will be updated frequently and revised/corrected as well as I find more.
Determination of TCP/UDP
< Case 1 > ------------------------------------------------------------------------------------------------

Example 01 :
(A) Transmission Control Protocol, (B) Src Port: 50000 , (C) Dst Port: 55062 ,

REGISTER sip:one.att.net SIP/2.0

Via: SIP/2.0/TCP [3000::2:5547:21cb:7edf:9962]:(D)50001;

branch=z9hG4bK44ccabd6a7f33104360e9ae78ce1ac0d;rport

Max-Forwards: 70

Contact: <sip:310410123456789@[3000::2:5547:21cb:7edf:9962]:(E)50001;(F) transport=tcp>;

+g.3gpp.smsip;

+g.3gpp.icsi-ref="urn%3Aurn-7%3A3gpp-service.ims.icsi.mmtel";

+sip.instance="<urn:gsma:imei:00440224-264925-0>"

To: <sip:310410123456789@one.att.net>

From: <sip:310410123456789@one.att.net>;tag=4887461765a4b2fc-d90ef734.0

Call-ID: 54df046e-10604c38-9f947b79@3000::2:5547:21cb:7edf:9962

CSeq: 2 REGISTER

Expires: 600000

Allow: INVITE, ACK, CANCEL, OPTIONS, BYE, REFER, NOTIFY, MESSAGE, SUBSCRIBE, INFO

User-Agent: IM-client/OMA1.0 TEST-IMS

Authorization: Digest username="310410123456789@private.att.net", realm="one.att.net",

nonce="1XcMbTY+MMNkpAePG/jtOm4yOzbFNdVV1XYObjNi45E=", uri="sip:one.att.net", response="7a87c22410c409ffef55ea37b41bfe4c",

algorithm=AKAv1-MD5,

cnonce="b4972c8ee817300a7ff36ed1cbd59be", opaque="09e88aef2....", qop=auth, nc=00000001

Security-Verify: ipsec-3gpp; ealg=null; alg=hmac-sha-1-96; spi-c=98765431; spi-s=87654321;

(G)port-c=55063;

(H)port-s=55062;

q=0.9,ipsec-3gpp; ealg=null; alg=hmac-md5-96; spi-c=98765431; spi-s=87654321;

(I)port-c=55063;

(J)port-s=55062;

q=0.7

P-Access-Network-Info: 3GPP-E-UTRAN-FDD; utran-cell-id-3gpp=31041000040000004

Supported: sec-agree, path

Proxy-Require: sec-agree

Security-Client: ipsec-3gpp; ealg=aes-cbc;

alg=hmac-sha-1-96; spi-c=41064354; spi-s=34933966;

(K)port-c=50000;

(L)port-s=50001;

prot=esp; mod=trans, ipsec-3gpp;

ealg=aes-cbc; alg=hmac-md5-96; spi-c=41064354; spi-s=34933966;

(M)port-c=50000;

(N)port-s=50001;

prot=esp; mod=trans, ipsec-3gpp; ealg=des-ede3-cbc;

alg=hmac-sha-1-96; spi-c=41064354; spi-s=34933966;

(O)port-c=50000;

(P)port-s=50001;

prot=esp; mod=trans, ipsec-3gpp; ealg=des-ede3-cbc; alg=hmac-md5-96;

spi-c=41064354; spi-s=34933966;

(Q)port-c=50000;

(R)port-s=50001;

prot=esp; mod=trans, ipsec-3gpp;

ealg=null; alg=hmac-sha-1-96; spi-c=41064354; spi-s=34933966;

(S)port-c=50000;

(T)port-s=50001;

prot=esp; mod=trans, ipsec-3gpp; ealg=null; alg=hmac-md5-96;

spi-c=41064354; spi-s=34933966;

(U)port-c=50000;

(V)port-s=50001;

prot=esp; mod=trans

Require: sec-agree

Content-Length: 0
(1)Transmission Control Protocol, (2)Src Port: 55062, (3)Dst Port: 50000, Seq: 1, Ack: 2279, Len: 655

SIP/2.0 200 OK

Via: SIP/2.0/TCP [3000::2:5547:21cb:7edf:9962]:(4)50001;

branch=z9hG4bK44ccabd6a7f33104360e9ae78ce1ac0d;rport

To: <sip:310410123456789@one.att.net>; tag=ATL2604_d9bc654771cd

From: <sip:310410123456789@one.att.net>;tag=4887461765a4b2fc-d90ef734.0

Call-ID: 54df046e-10604c38-9f947b79@3000::2:5547:21cb:7edf:9962

CSeq: 2 REGISTER

Contact: <sip:310410123456789@[3000::2:5547:21cb:7edf:9962]:(5)50001;(6)transport=tcp>; expires=1200

P-Associated-URI: <tel:+14251234567>

P-Associated-URI: <sip:+14251234567@one.att.net>

Service-Route: <sip:scscf.anyims.test.3gpp.com;lr>

Path: <sip:[fd29:cc43:7fb9:2:20c:29ff:fe66:b4c7];lr>

Content-Length: 0
< Case 2 > ------------------------------------------------------------------------------------------------

< Case 3 > ------------------------------------------------------------------------------------------------

< Case 4 > ------------------------------------------------------------------------------------------------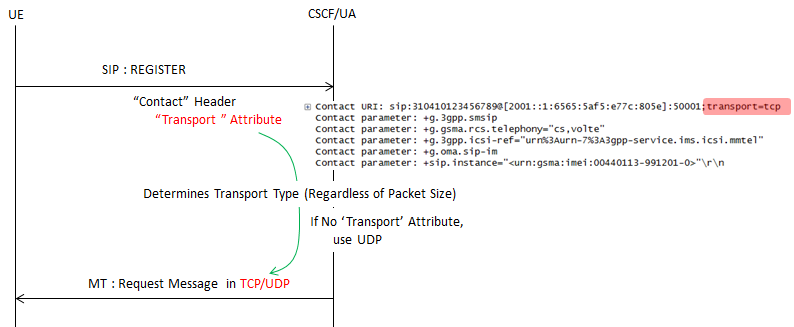 Example 01 :
Transmission Control Protocol, (A) Src Port: 50000 , (B) Dst Port: 55062 , Seq: 2264924161, Ack: 354, Len: 312

REGISTER sip:one.att.net SIP/2.0

Via: SIP/2.0/TCP [3000::2:5547:21cb:7edf:9962]:(C)50001;

branch=z9hG4bK44ccabd6a7f33104360e9ae78ce1ac0d;rport

Max-Forwards: 70

Contact: <sip:310410123456789@[3000::2:5547:21cb:7edf:9962]:(D)50001;(E) transport=tcp>;

+g.3gpp.smsip;

+g.3gpp.icsi-ref="urn%3Aurn-7%3A3gpp-service.ims.icsi.mmtel";

+sip.instance="<urn:gsma:imei:00440224-264925-0>"

To: <sip:310410123456789@one.att.net>

From: <sip:310410123456789@one.att.net>;tag=4887461765a4b2fc-d90ef734.0

Call-ID: 54df046e-10604c38-9f947b79@3000::2:5547:21cb:7edf:9962

CSeq: 2 REGISTER

Expires: 600000

Allow: INVITE, ACK, CANCEL, OPTIONS, BYE, REFER, NOTIFY, MESSAGE, SUBSCRIBE, INFO

User-Agent: IM-client/OMA1.0 TEST-IMS

Authorization: Digest username="310410123456789@private.att.net", realm="one.att.net",

nonce="1XcMbTY+MMNkpAePG/jtOm4yOzbFNdVV1XYObjNi45E=", uri="sip:one.att.net", response="7a87c22410c409ffef55ea37b41bfe4c",

algorithm=AKAv1-MD5,

cnonce="b4972c8ee817300a7ff36ed1cbd59be", opaque="09e88aef2....", qop=auth, nc=00000001

Security-Verify: ipsec-3gpp; ealg=null; alg=hmac-sha-1-96; spi-c=98765431; spi-s=87654321;

(F)port-c=55063;

(G)port-s=55062;

q=0.9,ipsec-3gpp; ealg=null; alg=hmac-md5-96; spi-c=98765431; spi-s=87654321;

(H)port-c=55063;

(I)port-s=55062;

q=0.7

P-Access-Network-Info: 3GPP-E-UTRAN-FDD; utran-cell-id-3gpp=31041000040000004

Supported: sec-agree, path

Proxy-Require: sec-agree

Security-Client: ipsec-3gpp; ealg=aes-cbc;

alg=hmac-sha-1-96; spi-c=41064354; spi-s=34933966;

(J)port-c=50000;

(K)port-s=50001;

prot=esp; mod=trans, ipsec-3gpp;

ealg=aes-cbc; alg=hmac-md5-96; spi-c=41064354; spi-s=34933966;

(L)port-c=50000;

(M)port-s=50001;

prot=esp; mod=trans, ipsec-3gpp; ealg=des-ede3-cbc;

alg=hmac-sha-1-96; spi-c=41064354; spi-s=34933966;

(N)port-c=50000;

(O)port-s=50001;

prot=esp; mod=trans, ipsec-3gpp; ealg=des-ede3-cbc; alg=hmac-md5-96;

spi-c=41064354; spi-s=34933966;

(P)port-c=50000;

(Q)port-s=50001;

prot=esp; mod=trans, ipsec-3gpp;

ealg=null; alg=hmac-sha-1-96; spi-c=41064354; spi-s=34933966;

(R)port-c=50000;

(S)port-s=50001;

prot=esp; mod=trans, ipsec-3gpp; ealg=null; alg=hmac-md5-96;

spi-c=41064354; spi-s=34933966;

(T)port-c=50000;

(U)port-s=50001;

prot=esp; mod=trans

Require: sec-agree

Content-Length: 0
(1)Transmission Control Protocol, (2) Src Port: 55063, (3) Dst Port: 50001, Seq: 1302, Ack: 1, Len: 341

INVITE sip:310410123456789@[3000::2:5547:21cb:7edf:9962]:(4)50001;(5)transport=tcp SIP/2.0

Via: SIP/2.0/TCP [fd29:cc43:7fb9:2:20c:29ff:fe66:b4c7]:(6)55062; branch=z9hG4bK62b4a2938807

Via: SIP/2.0/TCP scscf.anyims.test.3gpp.com; branch=z9hG4bK74eddae782b9

Max-Forwards: 69

To: <tel:+14251234567>

From: <sip:+18472733800@one.att.net;user=phone>; tag=ATL2604_06f4d629ece8

Call-ID: 551fe04688e4

CSeq: 1 INVITE

Via: SIP/2.0/TCP caller.3gpp.org:6543;branch=z9hG4bK87ee715641bd

Record-Route: <sip:scscf.anyims.test.3gpp.com;lr>

Record-Route: <sip:[fd29:cc43:7fb9:2:20c:29ff:fe66:b4c7]:(7)55062;lr>

Supported: 100rel,precondition

Allow: INVITE,ACK,CANCEL,BYE,UPDATE,PRACK,MESSAGE,REFER,NOTIFY

P-Asserted-Identity: <sip:+18472733800@one.att.net;user=phone>

P-Called-Party-ID: <tel:+14251234567>

Contact: <sip:+18472733800@[3000:0:0:2::1]:(8)5160>;

+g.3gpp.icsi-ref="urn%3Aurn-7%3A3gpp-service.ims.icsi.mmtel";video

P-Asserted-Service: urn:urn-7:3gpp-service.ims.icsi.mmtel

Accept-Contact: *;+g.3gpp.icsi-ref="urn%3Aurn-7%3A3gpp-service.ims.icsi.mmtel";video

Accept: application/sdp, application/3gpp-ims+xml

Content-Length: 486

Content-Type: application/sdp
Port Number
< Case 1 > ------------------------------------------------------------------------------------------------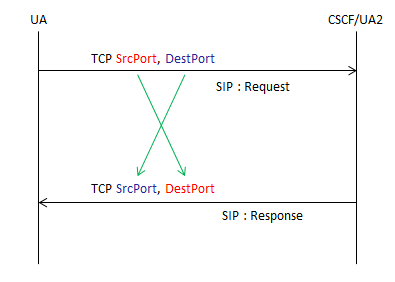 Example 01 :
You would notice

(B) matches (3)

(C) matches (2)
(A) Transmission Control Protocol, (B) Src Port: 50000 , (C) Dst Port: 55062 ,

REGISTER sip:one.att.net SIP/2.0

Via: SIP/2.0/TCP [3000::2:5547:21cb:7edf:9962]:(D)50001;

branch=z9hG4bK44ccabd6a7f33104360e9ae78ce1ac0d;rport

Max-Forwards: 70

Contact: <sip:310410123456789@[3000::2:5547:21cb:7edf:9962]:(E)50001;(F) transport=tcp>;

+g.3gpp.smsip;

+g.3gpp.icsi-ref="urn%3Aurn-7%3A3gpp-service.ims.icsi.mmtel";

+sip.instance="<urn:gsma:imei:00440224-264925-0>"

To: <sip:310410123456789@one.att.net>

From: <sip:310410123456789@one.att.net>;tag=4887461765a4b2fc-d90ef734.0

Call-ID: 54df046e-10604c38-9f947b79@3000::2:5547:21cb:7edf:9962

CSeq: 2 REGISTER

Expires: 600000

Allow: INVITE, ACK, CANCEL, OPTIONS, BYE, REFER, NOTIFY, MESSAGE, SUBSCRIBE, INFO

User-Agent: IM-client/OMA1.0 TEST-IMS

Authorization: Digest username="310410123456789@private.att.net", realm="one.att.net",

nonce="1XcMbTY+MMNkpAePG/jtOm4yOzbFNdVV1XYObjNi45E=", uri="sip:one.att.net", response="7a87c22410c409ffef55ea37b41bfe4c",

algorithm=AKAv1-MD5,

cnonce="b4972c8ee817300a7ff36ed1cbd59be", opaque="09e88aef2....", qop=auth, nc=00000001

Security-Verify: ipsec-3gpp; ealg=null; alg=hmac-sha-1-96; spi-c=98765431; spi-s=87654321;

(G)port-c=55063;

(H)port-s=55062;

q=0.9,ipsec-3gpp; ealg=null; alg=hmac-md5-96; spi-c=98765431; spi-s=87654321;

(I)port-c=55063;

(J)port-s=55062;

q=0.7

P-Access-Network-Info: 3GPP-E-UTRAN-FDD; utran-cell-id-3gpp=31041000040000004

Supported: sec-agree, path

Proxy-Require: sec-agree

Security-Client: ipsec-3gpp; ealg=aes-cbc;

alg=hmac-sha-1-96; spi-c=41064354; spi-s=34933966;

(K)port-c=50000;

(L)port-s=50001;

prot=esp; mod=trans, ipsec-3gpp;

ealg=aes-cbc; alg=hmac-md5-96; spi-c=41064354; spi-s=34933966;

(M)port-c=50000;

(N)port-s=50001;

prot=esp; mod=trans, ipsec-3gpp; ealg=des-ede3-cbc;

alg=hmac-sha-1-96; spi-c=41064354; spi-s=34933966;

(O)port-c=50000;

(P)port-s=50001;

prot=esp; mod=trans, ipsec-3gpp; ealg=des-ede3-cbc; alg=hmac-md5-96;

spi-c=41064354; spi-s=34933966;

(Q)port-c=50000;

(R)port-s=50001;

prot=esp; mod=trans, ipsec-3gpp;

ealg=null; alg=hmac-sha-1-96; spi-c=41064354; spi-s=34933966;

(S)port-c=50000;

(T)port-s=50001;

prot=esp; mod=trans, ipsec-3gpp; ealg=null; alg=hmac-md5-96;

spi-c=41064354; spi-s=34933966;

(U)port-c=50000;

(V)port-s=50001;

prot=esp; mod=trans

Require: sec-agree

Content-Length: 0
(1)Transmission Control Protocol, (2)Src Port: 55062, (3)Dst Port: 50000, Seq: 1, Ack: 2279, Len: 655

SIP/2.0 200 OK

Via: SIP/2.0/TCP [3000::2:5547:21cb:7edf:9962]:(4)50001;

branch=z9hG4bK44ccabd6a7f33104360e9ae78ce1ac0d;rport

To: <sip:310410123456789@one.att.net>; tag=ATL2604_d9bc654771cd

From: <sip:310410123456789@one.att.net>;tag=4887461765a4b2fc-d90ef734.0

Call-ID: 54df046e-10604c38-9f947b79@3000::2:5547:21cb:7edf:9962

CSeq: 2 REGISTER

Contact: <sip:310410123456789@[3000::2:5547:21cb:7edf:9962]:(5)50001;(6)transport=tcp>; expires=1200

P-Associated-URI: <tel:+14251234567>

P-Associated-URI: <sip:+14251234567@one.att.net>

Service-Route: <sip:scscf.anyims.test.3gpp.com;lr>

Path: <sip:[fd29:cc43:7fb9:2:20c:29ff:fe66:b4c7];lr>

Content-Length: 0
< Case 2> ------------------------------------------------------------------------------------------------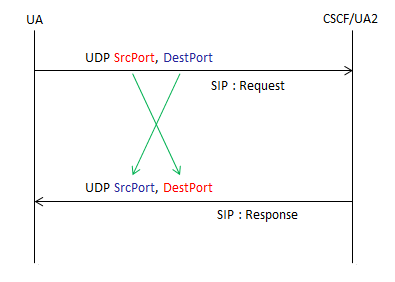 < Case 3> ------------------------------------------------------------------------------------------------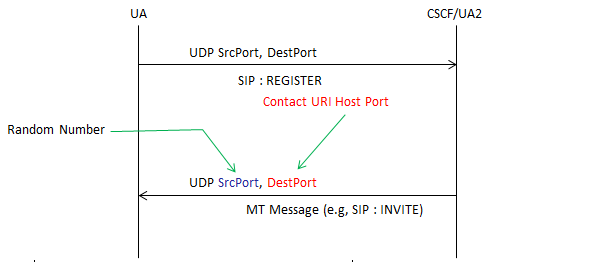 Example 01 :
You would notice followings :
(A)User Datagram Protocol, (B)Src Port: sip (5060), (C)Dst Port: sip (5060)

REGISTER sip:test.3gpp.com SIP/2.0

f: <sip:33333@test.3gpp.com>;tag=3034500338

t: <sip:33333@test.3gpp.com>

CSeq: 886930220 REGISTER

i: 3034413867_2326928952@192.168.1.31

v: SIP/2.0/UDP 192.168.1.31:5060;branch=z9hG4bK37595987

Transport: TCP

Sent-by Address: 192.168.1.31

Sent-by port: (D)5060

Max-Forwards: 70

m: <sip:33333@192.168.1.31:5060>;

+g.3gpp.icsi-ref="urn%3Aurn-7%3A3gpp-service.ims.icsi.mmtel";

+g.3gpp.smsip;video;+sip.instance="<urn:gsma:imei:35160200-126799-0>"

Contact URI User Part: 33333

Contact URI Host Part: 192.168.1.31

Contact URI Host Port: (E)5060

Route: <sip:192.168.1.2:5060;lr>

Route URI Host Part: 192.168.1.2

Route URI Host Port: (F)5060

Route URI parameter: lr

P-Access-Network-Info: 3GPP-E-UTRAN-FDD; utran-cell-id-3gpp=0010100010000000

Expires: 0

l: 0

Authorization: Digest uri="sip:test.3gpp.com",

username="33333@test.3gpp.com",

response="",realm="test.3gpp.com",

nonce=""

k: path

Allow: INVITE,BYE,CANCEL,ACK,NOTIFY,UPDATE,REFER,PRACK,INFO,MESSAGE,OPTIONS
(1)User Datagram Protocol, (2)Src Port: 51191 (51191), (3)Dst Port: sip (5060)

INVITE sip:33333@192.168.1.31:(4)5060 SIP/2.0

Via: SIP/2.0/UDP 192.168.1.2:(5)51191;branch=....;rport;transport=udp

Via: SIP/2.0/UDP 192.168.1.2:(6)51182;branch=....;rport=51186

Max-Forwards: 69

Call-ID: 8bf2ef02e9db49d6b1d4e5b2091e64a9

CSeq: 58001 INVITE

To: <sip:33333@test.3gpp.com>

From: <sip:1111@test.3gpp.com>;tag=1111111111

Allow: INVITE, PRACK, UPDATE, ACK, BYE, CANCEL

Supported: 100rel

Supported: precondition

Accept-Contact: *;+g.3gpp.icsi-ref="urn%3Aurn-7%3A3gpp-service.ims.icsi.mmtel";require;explicit

User-Agent: Anritsu-VirtualUA/3923

Content-Type: application/sdp

Content-Length: 571

Contact: <sip:1111@192.168.1.2:51182;transport=udp>

Contact URI User Part: 1111

Contact URI Host Part: 192.168.1.2

Contact URI Host Port: (7)51182

Contact URI parameter: transport=udp

Privacy: none

P-Asserted-Identity: <sip:1111@test.3gpp.com>

Record-Route: <sip:192.168.1.2;lr>
< Case 4> ------------------------------------------------------------------------------------------------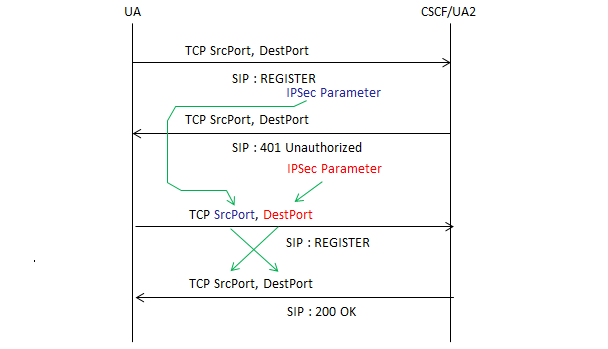 Example 01 :
Transmission Control Protocol, (A)Src Port: 64404 (64404), (B)Dst Port: sip (5060), ...

REGISTER sip:one.att.net SIP/2.0

Via: SIP/2.0/TCP [3000::2:5547:21cb:7edf:9962]:(C)5060;

branch=z9hG4bKa904bdafbf4b82175d9ac6732fdd2fd6;rport

Max-Forwards: 70

Contact: <sip:310410123456789@[3000::2:5547:21cb:7edf:9962]:(D)5060>;

+g.3gpp.smsip;

+g.3gpp.icsi-ref="urn%3Aurn-7%3A3gpp-service.ims.icsi.mmtel";

+sip.instance="<urn:gsma:imei:00440224-264925-0>"

To: <sip:310410123456789@one.att.net>

From: <sip:310410123456789@one.att.net>;tag=c5e5b838a178fe94-5185fd10.0

Call-ID: 54df046e-10604c38-9f947b79@3000::2:5547:21cb:7edf:9962

CSeq: 1 REGISTER

Expires: 600000

Allow: INVITE, ACK, CANCEL, OPTIONS, BYE, REFER, NOTIFY, MESSAGE, SUBSCRIBE, INFO

User-Agent: IM-client/OMA1.0 TEST-IMS

Authorization:

Digest username="310410123456789@private.att.net",

realm="one.att.net", nonce="",

uri="sip:one.att.net",

response=""

Supported: sec-agree, path

Proxy-Require: sec-agree

Security-Client: ipsec-3gpp; ealg=aes-cbc; alg=hmac-sha-1-96;

spi-c=41064354; spi-s=34933966; port-c=(E)50000; port-s=(F)50001;

prot=esp; mod=trans, ipsec-3gpp; ealg=aes-cbc;

alg=hmac-md5-96; spi-c=41064354; spi-s=34933966; port-c=(G)50000; port-s=(H)50001;

prot=esp; mod=trans, ipsec-3gpp; ealg=des-ede3-cbc; alg=hmac-sha-1-96;

spi-c=41064354; spi-s=34933966; port-c=(I)50000; port-s=(J)50001;

prot=esp; mod=trans, ipsec-3gpp; ealg=des-ede3-cbc;

alg=hmac-md5-96; spi-c=41064354; spi-s=34933966; port-c=(K)50000; port-s=(L)50001;

prot=esp; mod=trans, ipsec-3gpp; ealg=null;

alg=hmac-sha-1-96; spi-c=41064354; spi-s=34933966; port-c=(M)50000; port-s=(O)50001;

prot=esp; mod=trans, ipsec-3gpp; ealg=null;

alg=hmac-md5-96; spi-c=41064354; spi-s=34933966; port-c=(P)50000; port-s=(Q)50001;

prot=esp; mod=trans

Require: sec-agree

Content-Length: 0
Transmission Control Protocol, (1)Src Port: sip (5060), (2)Dst Port: 64404 (64404), Seq: 1, Ack: 1683,

SIP/2.0 401 Unauthorized

Via: SIP/2.0/TCP [3000::2:5547:21cb:7edf:9962]:5060;branch=z9hG4bKa904bdafbf4b82175d9ac6732fdd2fd6;rport

To: <sip:310410123456789@one.att.net>; tag=ATL2604_10c4d620f0c1

From: <sip:310410123456789@one.att.net>;tag=c5e5b838a178fe94-5185fd10.0

Call-ID: 54df046e-10604c38-9f947b79@3000::2:5547:21cb:7edf:9962

CSeq: 1 REGISTER

WWW-Authenticate:

Digest realm="one.att.net",

algorithm=AKAv1-MD5, q

op="auth",

nonce="1XcMbTY+MMNkpAePG/jtOm4yOzbFNdVV1XYObjNi45E=",

opaque="09....."

Security-Server:

ipsec-3gpp; ealg=null;

alg=hmac-sha-1-96;

spi-c=98765431; spi-s=87654321; port-c=(3)55063; port-s=(4)55062;

q=0.9

Security-Server:

ipsec-3gpp; ealg=null;

alg=hmac-md5-96;

spi-c=98765431; spi-s=87654321; port-c=(5)55063; port-s=(6)55062;

q=0.7

Content-Length: 0
Transmission Control Protocol, (a)Src Port: 50000, (b)Dst Port: 55062, Seq: 1294, Ack: 1,

REGISTER sip:one.att.net SIP/2.0

Via: SIP/2.0/TCP [3000::2:5547:21cb:7edf:9962]:(c)50001;branch=z9h....;rport

Max-Forwards: 70

Contact: <sip:310410123456789@[3000::2:5547:21cb:7edf:9962]:(d)50001;(e)transport=tcp>;

+g.3gpp.smsip;

+g.3gpp.icsi-ref="urn%3Aurn-7%3A3gpp-service.ims.icsi.mmtel";

+sip.instance="<urn:gsma:imei:00440224-264925-0>"

To: <sip:310410123456789@one.att.net>

From: <sip:310410123456789@one.att.net>;tag=4887461765a4b2fc-d90ef734.0

Call-ID: 54df046e-10604c38-9f947b79@3000::2:5547:21cb:7edf:9962

CSeq: 2 REGISTER

Expires: 600000

Allow: INVITE, ACK, CANCEL, OPTIONS, BYE, REFER, NOTIFY, MESSAGE, SUBSCRIBE, INFO

User-Agent: IM-client/OMA1.0 TEST-IMS

Authorization:

Digest username="310410123456789@private.att.net",

realm="one.att.net",

nonce="1XcMbTY+MMNkpAePG/jtOm4yOzbFNdVV1XYObjNi45E=",

uri="sip:one.att.net", r

esponse="7a87c22410c409ffef55ea37b41bfe4c",

algorithm=AKAv1-MD5,

cnonce="b4972c8ee817300a7ff36ed1cbd59be", opaque="09e...",

qop=auth,

nc=00000001

Security-Verify:

ipsec-3gpp; ealg=null;

alg=hmac-sha-1-96;

spi-c=98765431; spi-s=87654321; port-c=(f)55063; port-s=(g)55062;

q=0.9,

ipsec-3gpp; ealg=null;

alg=hmac-md5-96;

spi-c=98765431; spi-s=87654321; port-c=(h)55063; port-s=(i)55062;

q=0.7

P-Access-Network-Info: 3GPP-E-UTRAN-FDD; utran-cell-id-3gpp=31041000040000004

Supported: sec-agree, path

Proxy-Require: sec-agree

Security-Client:

ipsec-3gpp; ealg=aes-cbc;

alg=hmac-sha-1-96;

spi-c=41064354; spi-s=34933966; port-c=(j)50000; port-s=(k)50001; prot=esp;

mod=trans, ipsec-3gpp;

ealg=aes-cbc;

alg=hmac-md5-96;

spi-c=41064354; spi-s=34933966; port-c=(l)50000; port-s=(m)50001;

prot=esp; mod=trans, ipsec-3gpp;

ealg=des-ede3-cbc;

alg=hmac-sha-1-96;

spi-c=41064354; spi-s=34933966; port-c=(o)50000; port-s=(p)50001;

prot=esp; mod=trans, ipsec-3gpp;

ealg=des-ede3-cbc;

alg=hmac-md5-96;

spi-c=41064354; spi-s=34933966; port-c=(q)50000; port-s=(r)50001;

prot=esp; mod=trans, ipsec-3gpp;

ealg=null;

alg=hmac-sha-1-96; spi-c=41064354; spi-s=34933966; port-c=(s)50000; port-s=(t)50001;

prot=esp; mod=trans, ipsec-3gpp;

ealg=null;

alg=hmac-md5-96; spi-c=41064354; spi-s=34933966; port-c=(u)50000; port-s=(v)50001; prot=esp; mod=trans

Require: sec-agree

Content-Length: 0
Transmission Control Protocol, (i)Src Port: 55062 , (ii)Dst Port: 50000 , Seq: 1, Ack: 2279, Len: 655

SIP/2.0 200 OK

Via: SIP/2.0/TCP [3000::2:5547:21cb:7edf:9962]:50001;branch=z9h....;rport

To: <sip:310410123456789@one.att.net>; tag=ATL2604_d9bc654771cd

From: <sip:310410123456789@one.att.net>;tag=4887461765a4b2fc-d90ef734.0

Call-ID: 54df046e-10604c38-9f947b79@3000::2:5547:21cb:7edf:9962

CSeq: 2 REGISTER

Contact: <sip:310410123456789@[3000::2:5547:21cb:7edf:9962]:(iii)50001;(iv)transport=tcp>; expires=1200

P-Associated-URI: <tel:+14251234567>

P-Associated-URI: <sip:+14251234567@one.att.net>

Service-Route: <sip:scscf.anyims.test.3gpp.com;lr>

Path: <sip:[fd29:cc43:7fb9:2:20c:29ff:fe66:b4c7];lr>

Content-Length: 0
< Case 5> ------------------------------------------------------------------------------------------------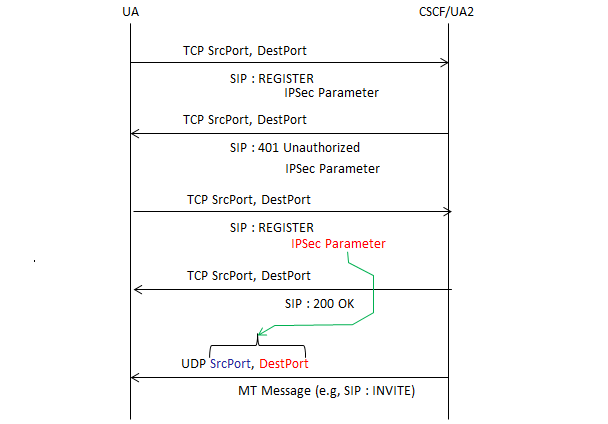 Transmission Control Protocol, (a)Src Port: 50000, (b)Dst Port: 55062, Seq: 1294, Ack: 1,

REGISTER sip:one.att.net SIP/2.0

Via: SIP/2.0/TCP [3000::2:5547:21cb:7edf:9962]:(c)50001;branch=z9h....;rport

Max-Forwards: 70

Contact: <sip:310410123456789@[3000::2:5547:21cb:7edf:9962]:(d)50001;(e)transport=tcp>;

+g.3gpp.smsip;

+g.3gpp.icsi-ref="urn%3Aurn-7%3A3gpp-service.ims.icsi.mmtel";

+sip.instance="<urn:gsma:imei:00440224-264925-0>"

To: <sip:310410123456789@one.att.net>

From: <sip:310410123456789@one.att.net>;tag=4887461765a4b2fc-d90ef734.0

Call-ID: 54df046e-10604c38-9f947b79@3000::2:5547:21cb:7edf:9962

CSeq: 2 REGISTER

Expires: 600000

Allow: INVITE, ACK, CANCEL, OPTIONS, BYE, REFER, NOTIFY, MESSAGE, SUBSCRIBE, INFO

User-Agent: IM-client/OMA1.0 TEST-IMS

Authorization:

Digest username="310410123456789@private.att.net",

realm="one.att.net",

nonce="1XcMbTY+MMNkpAePG/jtOm4yOzbFNdVV1XYObjNi45E=",

uri="sip:one.att.net", r

esponse="7a87c22410c409ffef55ea37b41bfe4c",

algorithm=AKAv1-MD5,

cnonce="b4972c8ee817300a7ff36ed1cbd59be", opaque="09e...",

qop=auth,

nc=00000001

Security-Verify:

ipsec-3gpp; ealg=null;

alg=hmac-sha-1-96;

spi-c=98765431; spi-s=87654321; port-c=(f)55063; port-s=(g)55062;

q=0.9,

ipsec-3gpp; ealg=null;

alg=hmac-md5-96;

spi-c=98765431; spi-s=87654321; port-c=(h)55063; port-s=(i)55062;

q=0.7

P-Access-Network-Info: 3GPP-E-UTRAN-FDD; utran-cell-id-3gpp=31041000040000004

Supported: sec-agree, path

Proxy-Require: sec-agree

Security-Client:

ipsec-3gpp; ealg=aes-cbc;

alg=hmac-sha-1-96;

spi-c=41064354; spi-s=34933966; port-c=(j)50000; port-s=(k)50001; prot=esp;

mod=trans, ipsec-3gpp;

ealg=aes-cbc;

alg=hmac-md5-96;

spi-c=41064354; spi-s=34933966; port-c=(l)50000; port-s=(m)50001;

prot=esp; mod=trans, ipsec-3gpp;

ealg=des-ede3-cbc;

alg=hmac-sha-1-96;

spi-c=41064354; spi-s=34933966; port-c=(o)50000; port-s=(p)50001;

prot=esp; mod=trans, ipsec-3gpp;

ealg=des-ede3-cbc;

alg=hmac-md5-96;

spi-c=41064354; spi-s=34933966; port-c=(q)50000; port-s=(r)50001;

prot=esp; mod=trans, ipsec-3gpp;

ealg=null;

alg=hmac-sha-1-96; spi-c=41064354; spi-s=34933966; port-c=(s)50000; port-s=(t)50001;

prot=esp; mod=trans, ipsec-3gpp;

ealg=null;

alg=hmac-md5-96; spi-c=41064354; spi-s=34933966; port-c=(u)50000; port-s=(v)50001; prot=esp; mod=trans

Require: sec-agree

Content-Length: 0
Transmission Control Protocol, (i)Src Port: 55063 , (ii)Dst Port: 50001 , Seq: 1302, Ack: 1, Len: 341

INVITE sip:310410123456789@[3000::2:5547:21cb:7edf:9962]:50001;transport=tcp SIP/2.0

Via: SIP/2.0/TCP [fd29:cc43:7fb9:2:20c:29ff:fe66:b4c7]:55062; branch=z9hG4bK62b4a2938807

Via: SIP/2.0/TCP scscf.anyims.test.3gpp.com; branch=z9hG4bK74eddae782b9

Max-Forwards: 69

To: <tel:+14251234567>

From: <sip:+18472733800@one.att.net;user=phone>; tag=ATL2604_06f4d629ece8

Call-ID: 551fe04688e4

CSeq: 1 INVITE

Via: SIP/2.0/TCP caller.3gpp.org:6543;branch=z9hG4bK87ee715641bd

Record-Route: <sip:scscf.anyims.test.3gpp.com;lr>

Record-Route: <sip:[fd29:cc43:7fb9:2:20c:29ff:fe66:b4c7]:55062;lr>

Supported: 100rel,precondition

Allow: INVITE,ACK,CANCEL,BYE,UPDATE,PRACK,MESSAGE,REFER,NOTIFY

P-Asserted-Identity: <sip:+18472733800@one.att.net;user=phone>

P-Called-Party-ID: <tel:+14251234567>

Contact: <sip:+18472733800@[3000:0:0:2::1]:5160>;+g.3gpp.icsi-ref="urn%3Aurn-7%3A3gpp-service.ims.icsi.mmtel";video

P-Asserted-Service: urn:urn-7:3gpp-service.ims.icsi.mmtel

Accept-Contact: *;+g.3gpp.icsi-ref="urn%3Aurn-7%3A3gpp-service.ims.icsi.mmtel";video

Accept: application/sdp, application/3gpp-ims+xml

Content-Length: 486

Content-Type: application/sdp