In NR, there are roughly two large frequency range specified in 3GPP. One is what we usually call (sub 6 Ghz) and the other is what we usually call millimeter wave. Depending on the ranges, the maximum bandwidth and subcarrier spacing varies. In sub 6 Ghz, the maximum bandwidth is 100 Mhz and in millimeter wave range the maximum bandwidth is 400 Mhz. Some subcarrier spacing (15, 30 Khz) can be used only in Sub 6 Ghz and some subcarrier spacing (120 Khz) can be used in millimeter wave range only, and some subcarrier spacing (60 Khz) can be used both in sub 6 Ghz and millimeter wave range.
Followings are the list of topics to be covered here. Not so much explanations in this page. they are mostly bunch of tables, but you would refer to these tables very often once you start developing (especially testing) NR devices. I just wanted to put togather those tables in single page, so that you can easily find the information. Most of the tables shown in this page are from 38.101-1 and 38.101-2.
As mentioned above, two types of frequency range is defined in 3GPP. Sub 6 Ghz range is called FR1 and millimiter wave range is called FR2. The exact frequency range for FR1(sub 6 Ghz) and FR2 (millimeter wave) are defined as below.
< 38.101-1 Table 5.1-1: Definition of frequency ranges >

< Based on 38.101-1 Table 5.2-1: NR operating bands in FR1 >
NR Operating Band

Uplink (UL) operating band

Downlink (DL) operating band

Duplex Mode

BS receive

BS transmit

UE transmit

UE receive

FUL_low – FUL_high

total BW

FDL_low – FDL_high

total BW

n1

1920 MHz-1980 MHz

60

2110 MHz-2170 MHz

60

FDD

n2

1850 MHz-1910 MHz

60

1930 MHz-1990 MHz

60

FDD

n3

1710 Mhz -1785 MHz

75

1805 MHz-1880 MHz

75

FDD

n5

824 -849 MHz

25

869 MHz-894MHz

25

FDD

n7

2500 MHz-2570 MHz

70

2620 MHz-2690 MHz

70

FDD

n8

880 MHz-915 MHz

35

925 MHz-960 MHz

35

FDD

n20

832 MHz-862 MHz

30

791 MHz-821 MHz

30

FDD

n28

703 MHz-748 MHz

45

758 MHz-803 MHz

45

FDD

n38

2570 MHz-2620 MHz

50

2570 MHz-2620 MHz

50

TDD

n41

2496 MHz-2690 MHz

194

2496 MHz-2690 MHz

194

TDD

n50

1432 MHz-1517 MHz

85

1432 MHz-1517 MHz

85

TDD

n51

1427 MHz-1432 MHz

5

1427 MHz-1432 MHz

5

TDD

n66

1710 MHz-1780 MHz

70

2110 MHz-2200 MHz

90

FDD

n70

1695 MHz-1710 MHz

15

1995 MHz-2020 MHz

25

FDD

n71

663 MHz-698 MHz

35

617 MHz-652 MHz

35

FDD

n74

1427 MHz-1470 MHz

43

1475 MHz-1518 MHz

43

FDD

n75

N/A

1432 Mhz -1517 MHz

85

SDL

n76

N/A

1427 Mhz -1432 MHz

5

SDL

n78

3300 MHz-3800 MHz

500

3300 MHz - 3800 MHz

500

TDD

n77

3300 MHz- 4200 MHz

900

3300 MHz - 4200 MHz

900

TDD

n79

4400 MHz-5000 MHz

600

4400 MHz - 5000 MHz

600

TDD

n80

1710 MHz-1785 MHz

75

N/A

SUL

n81

880 MHz-915 MHz

35

N/A

SUL

n82

832 MHz-862 MHz

30

N/A

SUL

n83

703 MHz-748 MHz

45

N/A

SUL

n84

1920 MHz-1980 MHz

60

N/A

SUL
< Based on 38.101-2 Table 5.2-1: NR operating bands in FR2 >
NR Operating Band

Uplink (UL) operating band

Downlink (DL) operating band

Duplex Mode

BS receive

BS transmit

UE transmit

UE receive

FUL_low – FUL_high

total BW

FDL_low – FDL_high

total BW

n257

26500 MHz–29500 MHz

3000

26500 MHz–29500 MHz

3000

TDD

n258

24250 MHz–27500 MHz

3260

24250 MHz–27500 MHz

3260

TDD

n260

37000 MHz–40000 MHz

3000

37000 MHz–40000 MHz

3000

TDD
< 38.101-1 Figure 5.3.3-1 Definition of channel bandwidth and transmission bandwidth configuration for one NR channel >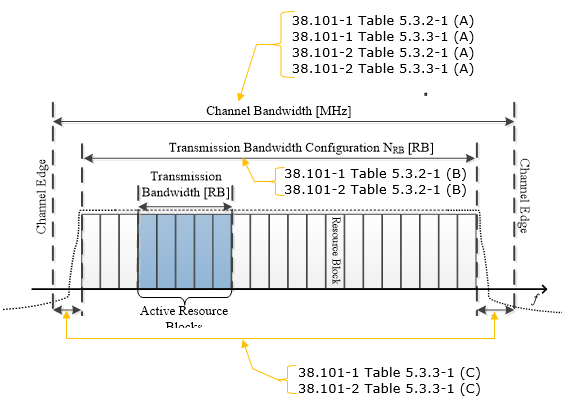 < 38.101-1 Table 5.3.2-1: Maximum transmission bandwidth configuration NRB : FR1 >

< 38.101-2 Table 5.3.2-1: Maximum transmission bandwidth configuration NRB : FR2 >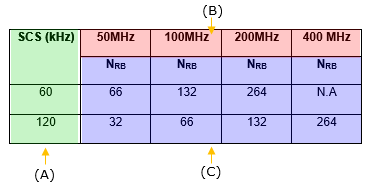 < 38.101-1 Table 5.3.3-1: Minimum Guardband for each UE channel bandwidth and SCS (kHz) : FR1 >

< 38.101-2 Table 5.3.3-1: Minimum guardband for each UE channel bandwidth and SCS (kHz) : FR2 >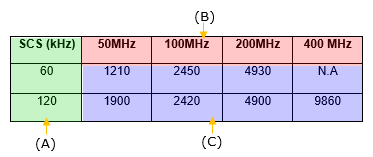 Supported Channel Bandwidth for each Band
< 38.101-1 Table 5.3.5-1 Channel Bandwidths for Each NR band : FR1 >
NR band / SCS / UE Channel bandwidth

NR Band

SCS

5 MHz

10 MHz

15 MHz

20 MHz

25 MHz

30 MHz

40 MHz

50 MHz

60 MHz

80 MHz

100 MHz

kHz

n1

15

Yes

Yes

Yes

Yes

30

Yes

Yes

Yes

60

Yes

Yes

Yes

n2

15

Yes

Yes

Yes

Yes

30

Yes

Yes

Yes

60

Yes

Yes

Yes

n3

15

Yes

Yes

Yes

Yes

Yes

Yes

30

Yes

Yes

Yes

Yes

Yes

60

Yes

Yes

Yes

Yes

Yes

n5

15

Yes

Yes

Yes

Yes

30

Yes

Yes

Yes

60

n7

15

Yes

Yes

Yes

Yes

30

Yes

Yes

Yes

60

Yes

Yes

Yes

n8

15

Yes

Yes

Yes

Yes

30

Yes

Yes

Yes

60

n20

15

Yes

Yes

Yes

Yes

30

Yes

Yes

Yes

60

n28

15

Yes

Yes

Yes

Yes

30

Yes

Yes

Yes

60

n38

15

Yes

Yes

Yes

Yes

30

Yes

Yes

Yes

60

Yes

Yes

Yes

n41

15

Yes

Yes

Yes

Yes

Yes

30

Yes

Yes

Yes

Yes

Yes

Yes

Yes

Yes

60

Yes

Yes

Yes

Yes

Yes

Yes

Yes

Yes

n50

15

Yes

Yes

Yes

Yes

Yes

Yes

30

Yes

Yes

Yes

Yes

Yes

Yes

Yes

60

Yes

Yes

Yes

n51

15

Yes

30

60

n66

15

Yes

Yes

Yes

Yes

30

Yes

Yes

Yes

Yes

60

Yes

Yes

Yes

Yes

n70

15

Yes

Yes

Yes

Yes

Yes

30

Yes

Yes

Yes

Yes

60

Yes

Yes

Yes

Yes

n71

15

Yes

Yes

Yes

Yes

30

Yes

Yes

Yes

60

n74

15

Yes

Yes

Yes

Yes

30

Yes

Yes

Yes

60

Yes

Yes

Yes

n75

15

Yes

Yes

Yes

Yes

30

Yes

Yes

Yes

60

Yes

Yes

Yes

n76

15

Yes

30

60

n77

15

Yes

Yes

Yes

Yes

30

Yes

Yes

Yes

Yes

Yes

Yes

Yes

60

Yes

Yes

Yes

Yes

Yes

Yes

Yes

n78

15

Yes

Yes

Yes

Yes

30

Yes

Yes

Yes

Yes

Yes

Yes

Yes

60

Yes

Yes

Yes

Yes

Yes

Yes

Yes

n79

15

Yes

Yes

30

Yes

Yes

Yes

Yes

Yes

60

Yes

Yes

Yes

Yes

Yes

n80

15

Yes

Yes

Yes

Yes

Yes

Yes

30

Yes

Yes

Yes

Yes

Yes

60

Yes

Yes

Yes

Yes

Yes

n81

15

Yes

Yes

Yes

Yes

30

Yes

Yes

Yes

60

n82

15

Yes

Yes

Yes

Yes

30

Yes

Yes

Yes

60

n83

15

Yes

Yes

Yes

Yes

30

Yes

Yes

Yes

60

n84

15

Yes

Yes

Yes

Yes

30

Yes

Yes

Yes

60

Yes

Yes

Yes
< 38.101-1 Table 5.3.5-1 Channel bandwidths for each NR band : FR2 >
NR band / SCS / UE Channel bandwidth

NR Band

SCS (kHz)

50 MHz

100 MHz

200 MHz

400 MHz

n257

60

Yes

Yes

Yes

Yes

120

Yes

Yes

Yes

Yes

n258

60

Yes

Yes

Yes

Yes

120

Yes

Yes

Yes

Yes

n260

60

Yes

Yes

Yes

Yes

120

Yes

Yes

Yes

Yes
< 38.101-2 Table 5.4.2-1: NR-ARFCN parameters for the global frequency raster >
| | | | | |
| --- | --- | --- | --- | --- |
| Frequency range | ΔFGlobal | FREF-Offs [MHz] | NREF-Offs | Range of NREF |
| 0 – 3000 MHz | 5 kHz | 0 MHz | 0 | 0 – 599999 |
| 3000 – 24250 MHz | 15 kHz | 3000 MHz | 600000 | 600000 – 2016666 |
| 24250 – 100000 MHz | 60 kHz | 24250 MHz | 2016667 | 2016667 – 3279167 |
< 38.101-1 Table 5.4.2.3-1: Applicable NR-ARFCN per operating band >
NR Operating Band

ΔFRaster

Uplink

Downlink

[kHz]

Range of NREF

Range of NREF

(First – <Step size> – Last)

(First – <Step size> – Last)

n1

100 kHz

384000 – <20> – 396000

422000 – <20> – 434000

n2

100 kHz

370000 – <20> – 382000

386000 – <20> – 398000

n3

100 kHz

342000 – <20> – 357000

361000 – <20> – 376000

n5

100 kHz

164800 – <20> – 169800

173800 – <20> – 178800

n7

15 kHz

500001 – <3> – 513999

524001 – <3> – 537999

n8

100 kHz

176000 – <20> – 78300

185000 – <20> – 192000

n20

100 kHz

166400 – <20> – 172400

158200 – <20> – 164200

n28

100 kHz

140600 – <20> – 149600

151600 – <20> – 160600

n38

15 kHz

514002 – <3> – 523998

514002 – <3> – 523998

n41

15 kHz

499200 – <3> – 537999

499200 – <3> – 537999

n50

100 kHz

286400 – <20> – 303400

286400 – <20> – 303400

n51

100 kHz

285400 – <20> – 286400

285400 – <20> – 286400

n66

100 kHz

342000 – <20> – 356000

422000 – <20> – 440000

n70

100 kHz

339000 – <20> – 342000

399000 – <20> – 404000

n71

100 kHz

132600 – <20> – 139600

123400 – <20> – 130400

n74

100 kHz

285400 – <20> – 294000

295000 – <20> – 303600

n75

100 kHz

N/A

286400 – <20> – 303400

n76

100 kHz

N/A

285400 – <20> – 286400

n77

15 kHz

620000 – <1> – 680000

620000 – <1> – 680000

n78

15 kHz

620000 – <1> – 653333

620000 – <1> – 653333

n79

15 kHz

693333 – <1> – 733333

693333 – <1> – 733333

n80

100 kHz

342000 – <20> – 357000

N/A

n81

100 kHz

176000 – <20> – 183000

N/A

n82

100 kHz

166400 – <20> – 172400

N/A

n83

100 kHz

140600 – <20> –149600

N/A

n84

100 kHz

384000 – <20> – 396000

N/A
< 38.101-2 Table 5.4.2.2-1: Applicable NR-ARFCN per operating band >
NR Operating Band

ΔFRaster

Uplink and Downlink

[kHz]

Range of NREF

(First – <Step size> – Last)

n257

60 kHz

2054167 – <1> – 2104166

n258

60 kHz

2016667 – <1> – 2070833

n260

60 kHz

2229167 – <1> – 2279166
Reference
[1]