NR Network Architecture / Network Interface
Following is the overal NR Network illustrated based on 23.501. The diagram is based mainly on Figure 4.2.3-1 and Figure 4.2.3-2 of 23.501.
The numbers in the oval shape indicates the reference point between components. This shows NR network only in non-roaming condition. In the condition of roaming with other NR network or Legacy network, some additional function block and interface(reference point) is required.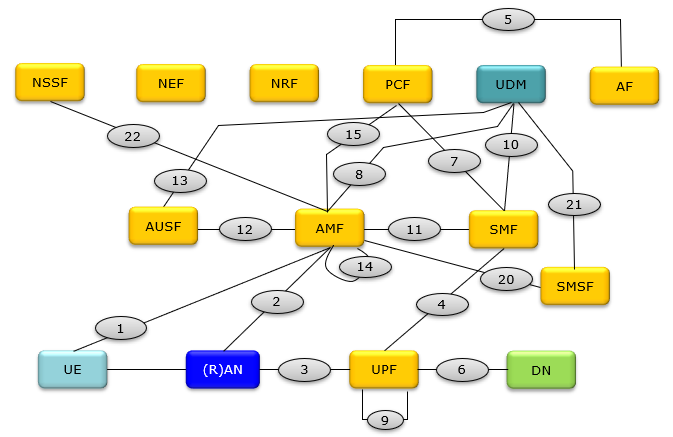 Followings are the name of each network component.
AMF Access and Mobility Management Function

AUSF Authentication Server Function

DN Data Network

NEF Network Exposure Function

NRF Network Repository Function

NSSF Network Slice Selection Function

PCF Policy Control Function

(R)AN (Radio) Access Network

SMF Session Management Function

UDM Unified Data Management

UPF User Plane Function

SMSF SMS Function
Reference
[1]