What is LTE-Advanced Pro ?
Everybody would know what LTE Advanced mean ? Then what does 'Pro' mean ? 3GPP document would not explain it :). According to Reference [3], it would have multiple meaning as listed below (It sounds like marketing terms to me though).
Pro

pel

Pro

gress

Pro

liferate
Whatever it means, you may easily guess LTE-Advanced Pro will be an evolution of LTE Advanced.
Then, what are the major technical features of LTE-Advanced Pro ? Let's find some clue from 3GPP official description (Ref [1]). It states as follows :
The major advances achieved with the completion of Release 13 include: MTC enhancements, public safety features – such as D2D and ProSe - small cell dual-connectivity and architecture, carrier aggregation enhancements, interworking with Wi-Fi, licensed assisted access (at 5 GHz), 3D/FD-MIMO, indoor positioning, single cell-point to multi-point and work on latency reduction. Many of these features were started in previous Releases, but will become mature in Release 13.
Summarizing these features in bullets, it is as follows. I will update further details with focus on these features down the road.
MTC Enhancement

Public Safety Enhancements

Latency Reduction

Carrier Aggregation Enhancement
UE Category
As you see here, a new Category 17 is added and theoretically it can support max 25 Gbps throughput. I think this can be achievable by taking 32 CC Carrier Aggregation and each carrier with 20 Mhz bandwidth.
< 36.306 v13.0 Table 4.1A-1: Downlink physical layer parameter values set by the field ue-CategoryDL >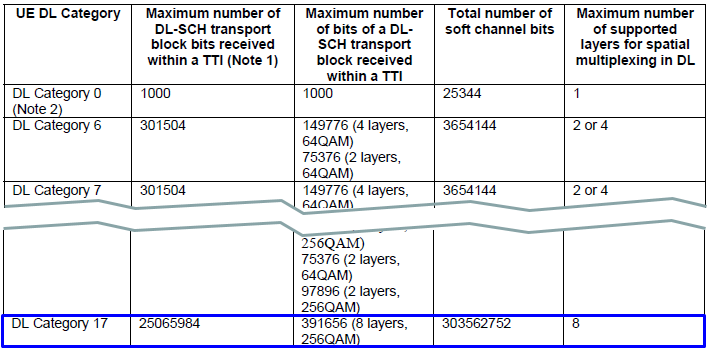 < 36.306 v13.0 Table 4.1A-3: Total layer 2 buffer sizes set by the fields ue-CategoryDL and ue-CategoryUL >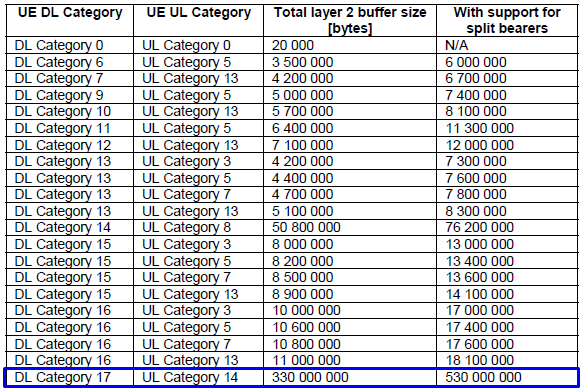 < 36.306 v13.0 Table 4.1A-6: supported DL/UL Categories combinations set by the fields ue-CategoryDL and ue-CategoryUL and UE categories to be indicated >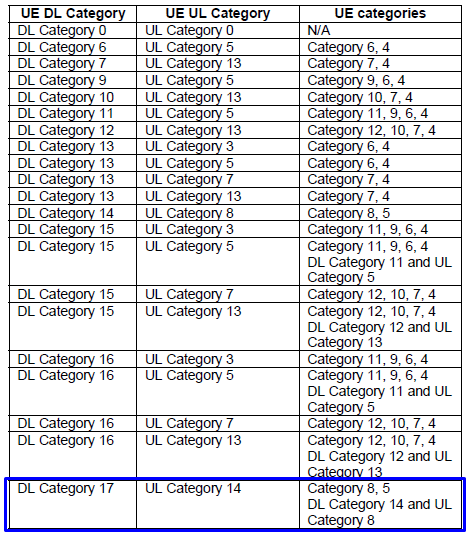 [1] 3GPP : LTE-Advanced Pro Ready to Go
[2] Nokia : LTE-Advanced Evolution in Releases 12 - 14
[3] Qualcomm : Leading the path towards 5G with LTE Advanced Pro (pdf, YouTube)