NWDAF
NWDAF stands for NetWork Data Analytic Function. Simply put, this functionality establishes interface and protocols to almost every important components of corenetwork and retrieve the data from them and perform analysis.
The connection/interface between NWDAF and various core network components can be illustrated as follows. This illustraction was reconstructed from diagrams in 23.501-4.2.3 and tables from 23.288 - 6.2.2.1. You would notice there are some components that are not directly connected by NWDAF, but the component with the connection are connected to other components which are not directly connected to NWDAF. Therefore, we can say NWDAF is connected almost every component of core network directly and indirectly.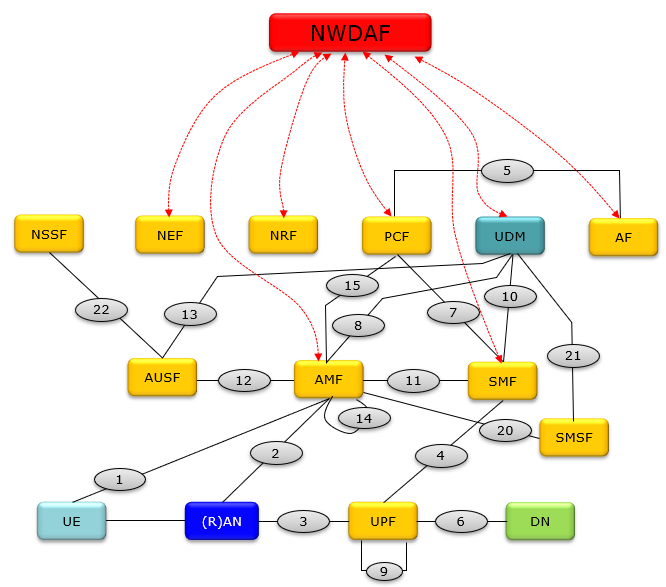 As shown in the diagram above, NWDAF is getting services from various core network components. The components providing the service (providing data) is called Service Producer. The list of service producers and type of the services are summarized in a table as shown below. For the details of each of the services, refer to corresponding sections in 23.502.
< 23.288-Table 6.2.2.1-1: NF Services consumed by NWDAF for data collection >

< 23.288-Table 6.2.2.1-2: NF Services consumed by NWDAF to determine which NF instances are serving a UE >

What kind of Analytic information you can get from NWDAF ?
< Table 7.1-2: Analytics information provided by NWDAF >
Signaling Protocol between NWDAF and Other components
< 23.288-Table 7.1-1: NF services provided by NWDAF >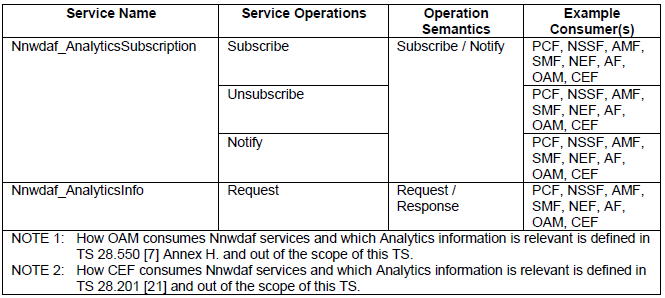 Now assume that you have NWDAF in place in your core network, what are you going to do with it ? would there any issues with achieving your goal in terms of NWDAF process or implementations ?
I think the final answer to these questions would be up to you and everybody would have a little bit of different answers, but as initial brainstorming TR 23.791 has pretty good list of answers to the questions. For me who would not be the one that implement this functionality, just reading the titles in the document was very helpful to get the big picture of what we can do with NWDAF. Following is the blind copy of those titles from TR 23.791. If you are interested in further detail, refer to TR 23.791.
Use Cases

Use Case 1: <how to get information from AF>

Use Case 2: <NWDA-Assisted QoS Provisioning>

Use Case 3: <NWDA-Assisted Traffic Handling>

Use Case 4: Using NWDAF output to customize mobility management

Use Case 5: <NWDA-assisted Determination of Policy>

Use Case 6: <NWDAF-Assisted QoS Adjustment>

Use Case 7: NWDAF assisting 5G edge computing

Use Case 8: Performance improvement and supervision of mIoT terminals

Use Case 9: <NWDAF-assisted load balancing/re-balancing of network functions>

Use Case 10: NWDA-assisted determination of areas with oscillation of network conditions

Use Case 11: Prevention of various security attacks

Use Case 12: < NWDA-Assisted predictable network performance >

Use Case 13: <UE driven analytics sharing>

Use Case 14: How to ensure that slice SLA is guaranteed

Key Issues

Key Issue 1: Analytic Information Exposure to 5GS NF

Key Issue 2: Analytic Information Exposure to AF

Key Issue 3: Interactions with 5GS NFs/AFs for Data Collection

Key Issue 4: Interactions with OAM for Data Collection and Data Analytics Exposure

Key Issue 5: NWDAF-Assisted QoS Profile Provisioning

Key Issue 6: NWDAF assisting traffic routing

Key Issue 7: NWDAF assisting Future Background Data Transfer

Key Issue 8: performance improvement and supervision of mIoT terminals

Key Issue 9: Customizing mobility management based on NWDAF output

Key Issue 10: NWDAF service support to select NF instances

Key Issue 11: NWDA-Assisted predictable network performance

Key Issue 12: Support of Northbound Network Status Exposure

Key Issue 13: UE driven analytics

Key Issue 14: How to ensure that slice SLA is guaranteed
As many people would guess, I think the data collected by NWDAF can be a good target for AI/ML (Artificial Intelligence / Machine Learning). I am pretty sure that AI/ML will get involved here.. but will AI/ML be incorporated into MWDAF or be additional application (services) sitting on top of NWDAF ? will this AI/ML be specified by 3GPP ? or will it be driven by individual company ?
As far as I know, all of these are open questions for now.
There are some 3GPP activity as of now (Dec 2021), there is some AI/ML activity in 3GPP targetted for Rel 18, but as far as I know that activity is mostly for RAN side, not for Core Network (See this note for 3GPP AI/ML).
Reference
YouTubes