Descriptions will follow later.. enjoy illustrations and screen capture and try to make some story about it on your own for now.
Frame Structure - Time, OVSF, Frequency Domain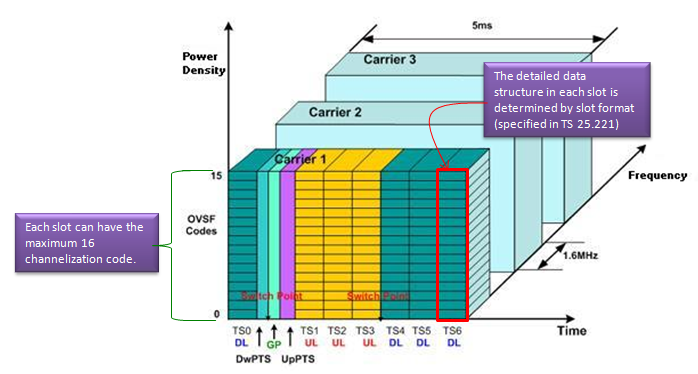 Following is the overall frame structure for 1.28 Mcps options. For other option (e.g, 3.84, 7.68 Mcps), refer to 25.211 5.1 and 5.B1). The details for this section is based on 25.211 5.A1.
Just read following figure and try to verbalize it, you can figure out a lot of details just by "READING" the figure. If I do a little bit of list for you, it would be as follows. (Some items in this list cannot be read from the figure. They are specified in specification)
one radio frame is 10 ms length

one radio frame is made up of 2 subframes and each of these subframes has 5 ms length

the two subframe structure within a radio frame has same structure.

each subframe has 7 time slots in it

length of each time slot is 864 chips in length

among the 7 traffic time slots, time slot#0 is always allocated as downlink and time slot#1 is always allocated as uplink.

there must be at least one downlink slot and at least one uplink slot within a subframe. As long as this requirement is met, you can create any combination of uplink and downlink slots.

In a multi-frequency cell, the traffic time slots allocated for uplink and downlink pair(s) for one UE should be on the same carrier.

In a multi-frequency cell, it is suggested the switching point configuration on secondary frequencies to be the same as that on primary frequency.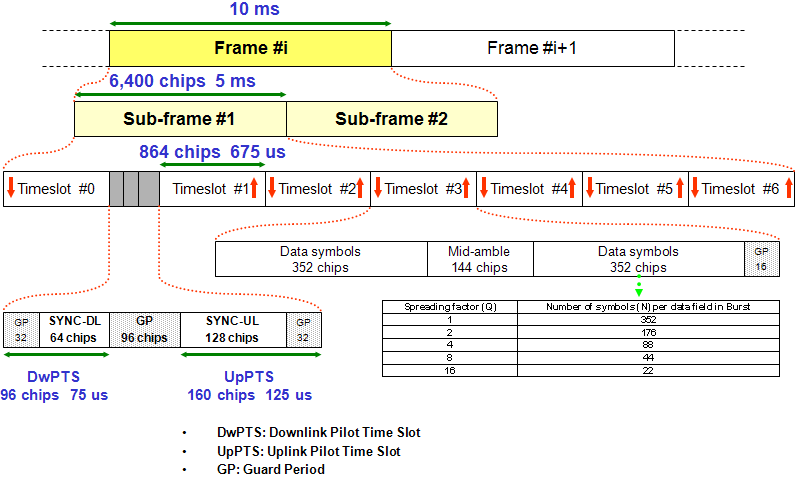 Slot Structure (Burst Format) - 1.28 Mcps
< Dedicated Physical Channel : DPCH >


< Primary common control physical channel : P-CCPCH >
Same as DPCH burst format except that no TFCI is applied.
< Secondary common control physical channel : S-CCPCH >
Same as DPCH burst format and TFCI may apply as well.
< Fast Physical Access CHannel : FPACH >
Same as DPCH burst format
< physical random access channel : PRACH >
Same as DPCH burst format
< High Speed Physical Downlink Shared Channel : HS-PDSCH >
Same as DPCH burst format, but be careful.. slot format for HS-PDSCH is different from PDCH slot format.
Following is some snapshots of these frame structure being implemented in real application. I captured these subframes during real communication using vector spectrum analyzer.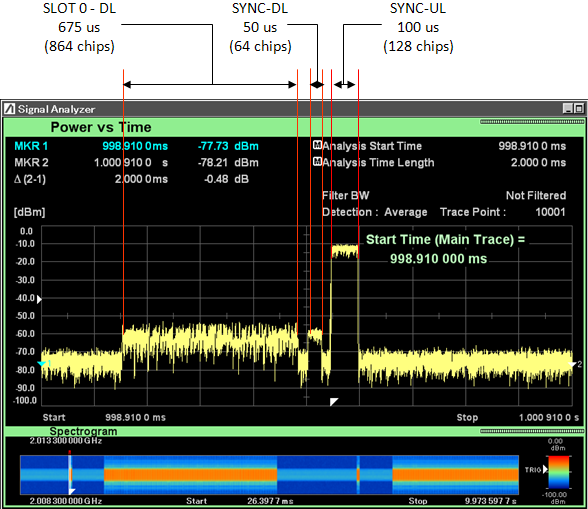 Frame/Burst in Call Processing