This page will describe about WCDMA RLC parameters and PDU structure, and how they care configured in RRC messages. Followings are the list of the topics that will be explained in this page.
RLC for SRB (Signaling Radio Bearer)
RLC for WCDMA SRB are described in 25.331 6.3 Signalling Radio Bearers, but in reality there can be a little bit of variations. Following is one example configurations of SRBs.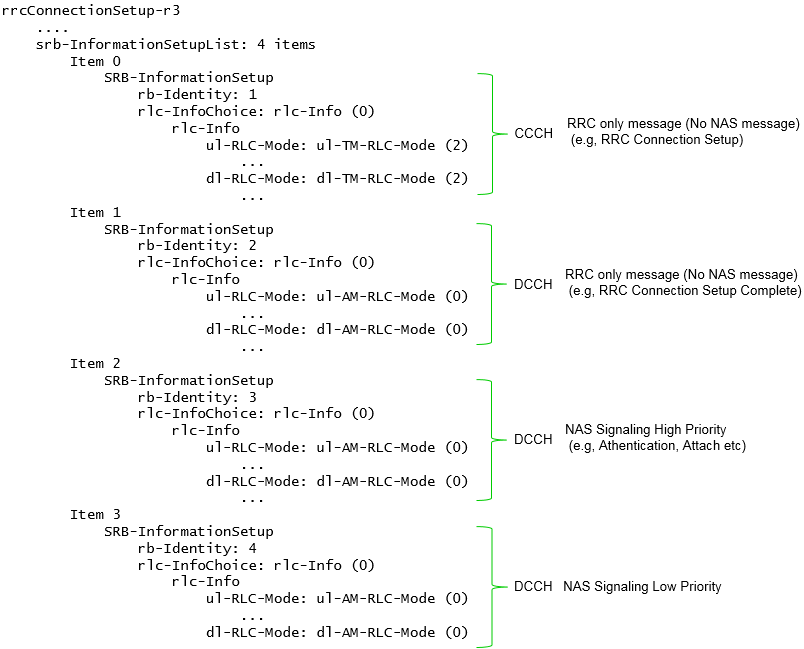 RLC for DRB (Data Radio Bearer)
+-RAB-InformationSetup-r7 ::= SEQUENCE
+-rab-Info ::= SEQUENCE [000]
| +-rab-Identity ::= CHOICE [gsm-MAP-RAB-Identity]
| | +-gsm-MAP-RAB-Identity ::= BIT STRING SIZE(8) [00000110]
| +-mbms-SessionIdentity ::= OCTET STRING OPTIONAL:Omit
| +-mbms-ServiceIdentity ::= OCTET STRING OPTIONAL:Omit
| +-cn-DomainIdentity ::= ENUMERATED [ps-domain]
| +-nas-Synchronisation-Indicator ::= BIT STRING OPTIONAL:Omit
| +-re-EstablishmentTimer ::= ENUMERATED [useT315]
+-rb-InformationSetupList ::= SEQUENCE OF SIZE(1..maxRBperRAB[8]) [1]
+-RB-InformationSetup-r7 ::= SEQUENCE [0]
+-rb-Identity ::= INTEGER (1..32) [8]
+-pdcp-Info ::= SEQUENCE OPTIONAL:Omit
+-rlc-InfoChoice ::= CHOICE [rlc-Info]
| +-rlc-Info ::= SEQUENCE [1100]
| +-ul-RLC-Mode ::= CHOICE [ul-AM-RLC-Mode] OPTIONAL:Exist
| | +-ul-AM-RLC-Mode ::= SEQUENCE [1]
| | +-transmissionRLC-Discard ::= CHOICE [noDiscard]
| | | +-noDiscard ::= ENUMERATED [dat10]
| | +-transmissionWindowSize ::= ENUMERATED [tw2047]
| | +-timerRST ::= ENUMERATED [tr1000]
| | +-max-RST ::= ENUMERATED [rst12]
| | +-pollingInfo ::= SEQUENCE [000100] OPTIONAL:Exist
| | +-timerPollProhibit ::= ENUMERATED OPTIONAL:Omit
| | +-timerPoll ::= ENUMERATED OPTIONAL:Omit
| | +-poll-PDU ::= ENUMERATED OPTIONAL:Omit
| | +-poll-SDU ::= ENUMERATED [sdu1] OPTIONAL:Exist
| | +-lastTransmissionPDU-Poll ::= BOOLEAN [TRUE]
| | +-lastRetransmissionPDU-Poll ::= BOOLEAN [TRUE]
| | +-pollWindow ::= ENUMERATED OPTIONAL:Omit
| | +-timerPollPeriodic ::= ENUMERATED OPTIONAL:Omit
| +-dl-RLC-Mode ::= CHOICE [dl-AM-RLC-Mode] OPTIONAL:Exist
| | +-dl-AM-RLC-Mode ::= SEQUENCE
| | +-dl-RLC-PDU-size ::= CHOICE [fixedSize]
| | | +-fixedSize ::= CHOICE [sizeType2]
| | | +-sizeType2 ::= SEQUENCE [0]
| | | +-part1 ::= INTEGER (0..23) [2]
| | | +-part2 ::= INTEGER OPTIONAL:Omit
| | +-inSequenceDelivery ::= BOOLEAN [TRUE]
| | +-receivingWindowSize ::= ENUMERATED [rw2047]
| | +-dl-RLC-StatusInfo ::= SEQUENCE [100]
| | +-timerStatusProhibit ::= ENUMERATED [tsp10] OPTIONAL:Exist
| | +-dummy ::= ENUMERATED OPTIONAL:Omit
| | +-missingPDU-Indicator ::= BOOLEAN [TRUE]
| | +-timerStatusPeriodic ::= ENUMERATED OPTIONAL:Omit
| +-rlc-OneSidedReEst ::= BOOLEAN [FALSE]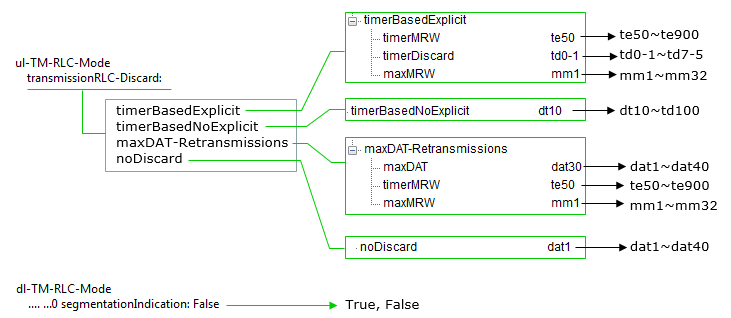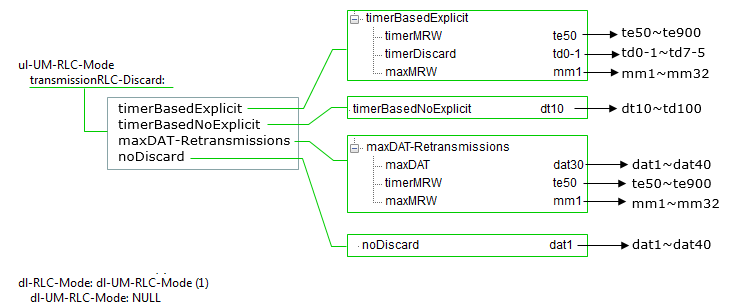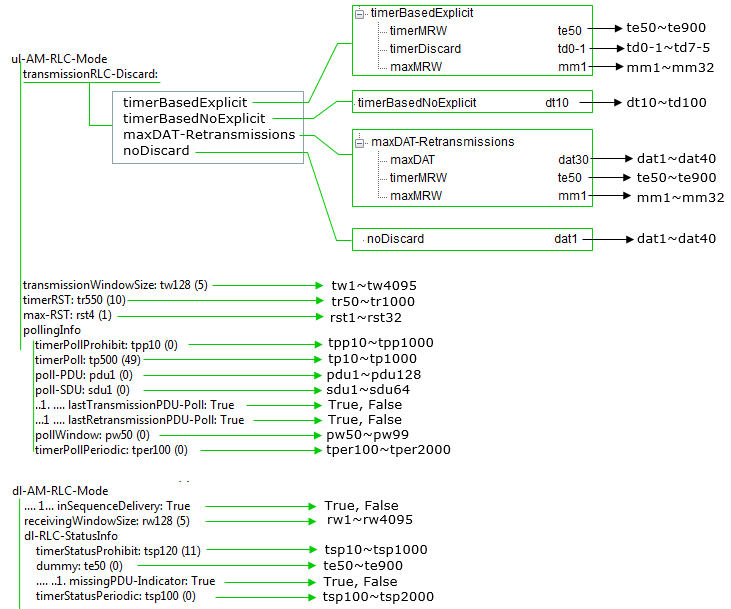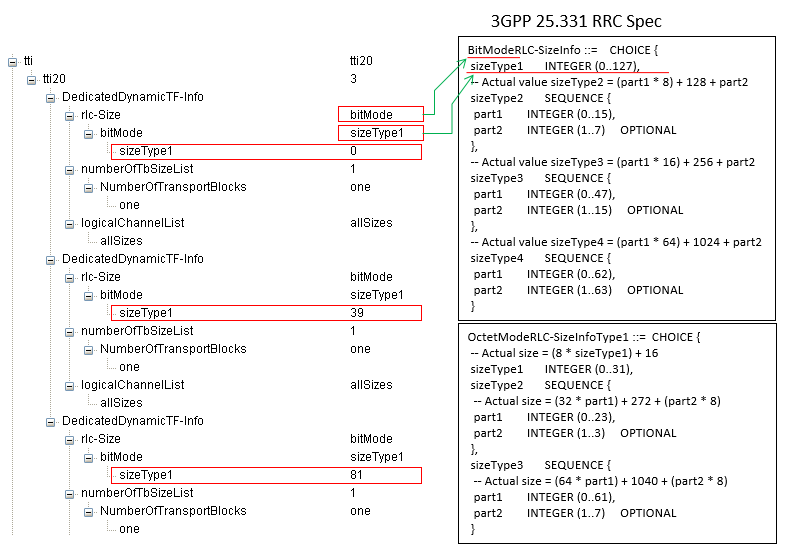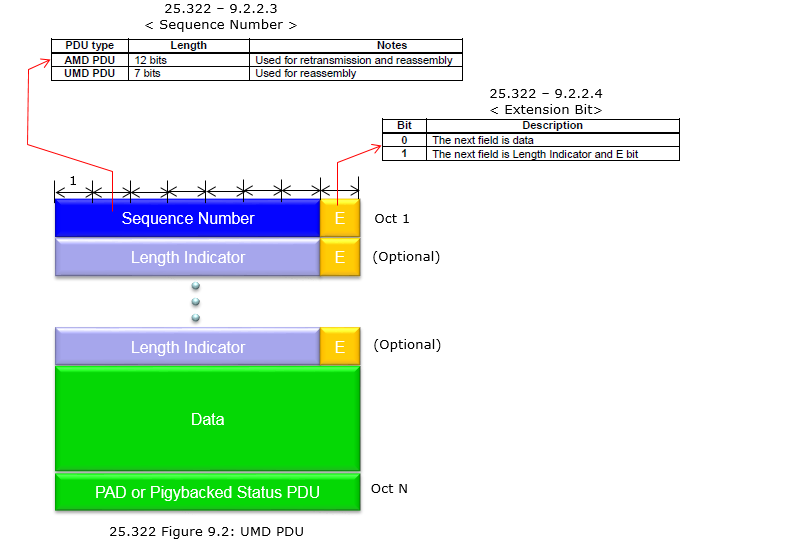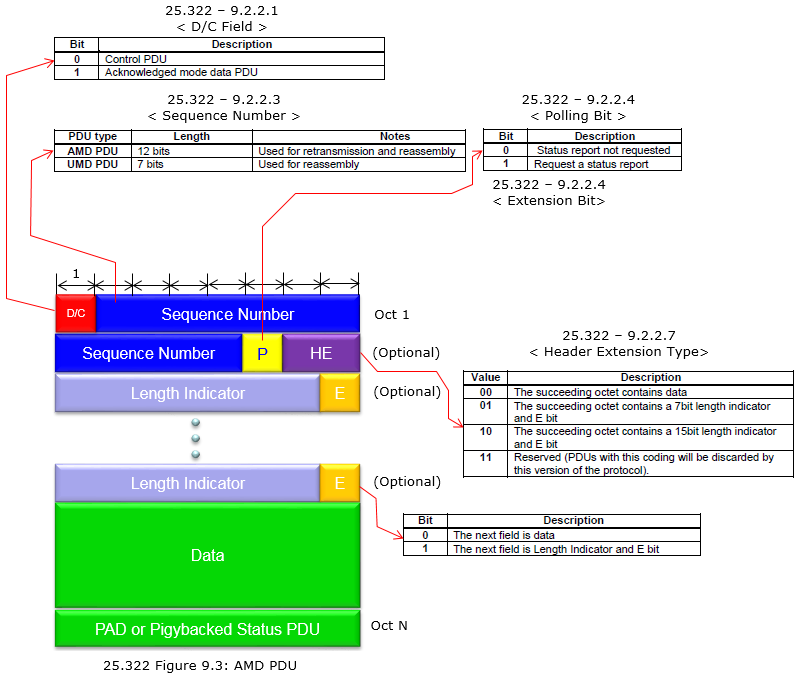 Example > RLC AMD PDU - 80 55 0D FE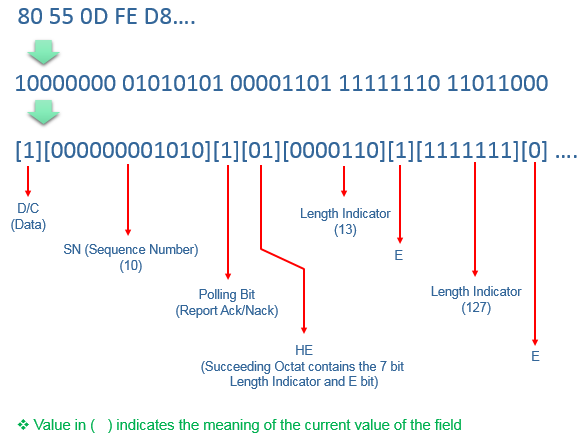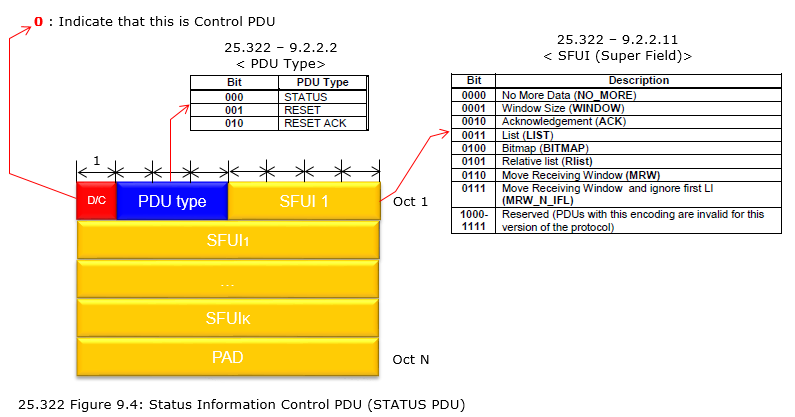 Example > RLC Status PDU - LIST - 03 10 11 02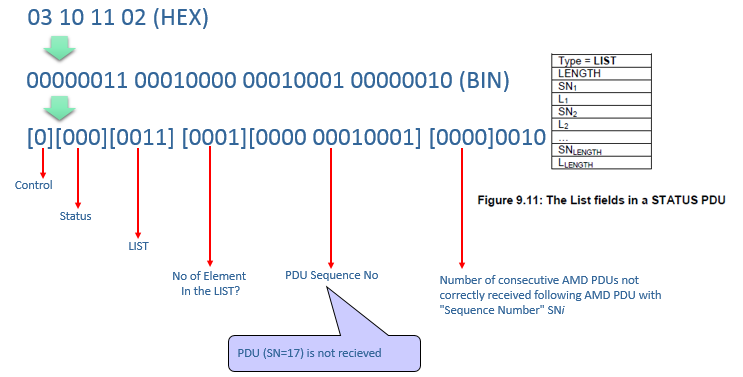 Example > RLC Status PDU - BITMAP - 04 00 07 FD