4G to 5G Migration/Evolution
If you just read all the 5G initial definition/requirement documents introduced in 5G Definition page. You may think "It is too good to be realized. It would be easy to say but almost impossible to implement." It would to true that we cannot realize all those requirement overnight in a single step. But as you look back the history of wireless communication (actually any technology), most of new technology start from what we have now and gradually evolve piece by piece and eventually realize what we thought would be impossible.
5G would be realized in the similar fashion even though many of 5G document say '5G should take drastically different evolution path from the one we saw before'. We are already seeing some of the features regarded as very advanced feature in current technology (4G) but will become a kind of basic features in 5G. I think following illustration gives us pretty good idea of the evolution path. If you are interested in 5G technical details, but don't know what to do because there is no established standard/specification, following current 3GPP specification along the eveolution path can be a good starting point.
Following figure is from SK Telecom 5G WhitePaper (Strongly recommeded to read the full document).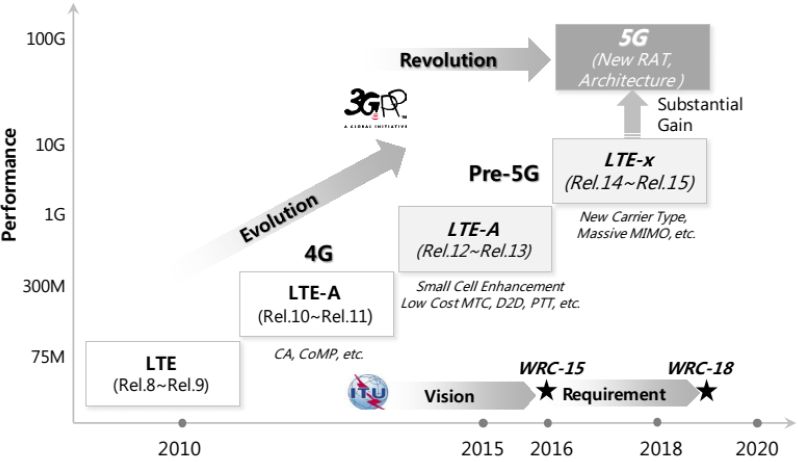 Following is from the white paper : 4G Americas' recommendation on 5G Requirements and Solution. Again, read the full document first and use this table to refresh your memory as needed.
1. Enhancement of Network Flexibility

CDN(Content Distribution Network) : Inteligent content-reqest routing mechanism

New APN provisioning and associated signaling

2. Additional Support for Essential Functions as Fundamental Attributes of Network Layer

Automatic topology mapping and pathology-free routing

Research in the Future Internet Architecture

3. Providing More Flexible Mobility Solution

Reduce RAN and Core Network Signaling overhead (especially for Static devices)

Reduce overhead for the additional headers that are added for every packets (espeically small packets)

Improve tunneling algorithm to realize more efficient routing

4. Expanded Form of Multi-RAT Integration and Management

Continue to maintain/improve "trusted non-3GPP access" mechanism

5. Enhanced Efficiency for Short-Burst or Small-Data Communication

Support truly connectionless mode of operation

6. Expanding Context Information Known to the Network

Analyze and store more informations to provide better context-based services
3GPP 5G Workshop - Sep 2015
Not much of serious discussion I think. Many presentations but mostly at the similar level as you can get from googling and some whitepapers released by various companies. But I think this is meaningful that this is the first technical gatherings under 3GPP umberella. (See here for all the presentation)
Main Study Topcis in Rel 13
Refer to 3GPP Evolution of LTE in Release 13 for official introduction. Also I found pretty good introduction from YouTube posted by Erricson : Tech Talk shows benefits of LTE Release 13. Initial 3GPP documents are released and avaiable from 3GPP sites as of Apr 2016. The new features in Rel 13 will be followed up in LTE Advanced Pro - Overview page.
Following is my version of introduction.
< LTE in unlicensed spectrum >
Even without specification, this area has been discussed for pretty long time and some chipset vendors are already at the stage of testing for several month now (Apr 2015).
This is a special kind of Carrier Aggregation and the basic idea is to use the licensed LTE spectrum as a PCC and use unlicensed spectrum as SCC. The most common unlicensed spectrum being used this purpose as of now is WLAN spectrum in 5 Ghz, but theoretically we can extend it to any spectrum.
Refer to RP-150055 for further details.
< Carrier Aggregation enhancements >
As of now (Rel 12), the maximum number of carrier we can aggregate is 5. The main items for this activity is to extend the number of aggregated carrier up to 32. There has already been a demo achieving 9 CC CA on Mar 31, 2015.
The network operator KT and mobile manufacturer SamSung did the demo for TDD 9 CC CA (Netmanias Interview with KT at MWC 2015: KT's demonstrations of LTE TDD (9-carrier CA, LTE-UL/DL CA and triple mode femto)
Refer to RP-142286 for details.
< LTE enhancements for Machine-Type Communications (MTC) >
Main objective for this activity is to implement a low throughput device at a very low cost. See MTC page for my summary and see RP-141865 for further details.
I think it is highly likely that a lot of technology developed in this area would be adopted by 5G as well.
< Enhancements for D2D >
D2D has been investigated since Rel 12 and basic concept is summarized in my D2D/Prosec and D2D/Radio Protocol page. This objective of this activity is to make some enhancement to the existing topics.
Refer to RP-142311 for the details.
< Elevation Beamforming / Full-Dimension MIMO >
Main objective in this activity is to define the technology to increase the number of downlink Antenna (max 64) and to arrange those antenna in 2 dimensional grid.
I think the technology developed here would likely to be adopted in 5G. Refer to RP-141831 for the details.
< Enhanced multi-user transmission techniques >
In this activie, it will be investigate to realize techniquest to achieve MU MIMO which is tolerent to intra cell interference and can work even when the orthogonality is not guaranteed.
I think this technique in combination with FD-MIMO will be very important technical component in 5G. Refer to RP-142315 for details.
< Indoor positioning >
Refer to RP-141102 for details.
< Single-cell Point-to-Multipoint (SC-PTM) >
Refer to RP-142205 for details.
3GPP TSG RAN WG1 Meeting #84bis - Apr 2016
From the outcome of this meeting, I started sensing that 5G is on going really seriously in 3GPP. You would get a lot of 5G related material in the form of TDocs here.
3GPP TSG RAN WG1 Meeting #85 - May 2016
I don't see as many 5G/NR TDocs here as in #84bis, but in some topics I got much more clarification / agreements from this meeting. You may refer to TDocs from this meeting.
3GPP TSG RAN WG1 Meeting #86 - Aug 2016
Further narrow down and some decision(basic waveform, channel coding, modulation) - See here for TDocs( RAN1 , RAN1 LS, RAN4 )
3GPP TSG RAN WG1 Meeting #87- Nov 2016
decision on Frame structure, Channel Coding Process, further discussion on channel implementation, multiple Access and MIMO
- See here for TDocs( RAN1 (FTP), RAN1 LS, RAN4 )
- Attention : R1-1612707 draft TR38.802(V031)_v1
Main Study Topcis in Rel 14
No official 3GPP document about 5G in Release 14 is available for now, but following is a list of maijor features of Rel 14 presented by Qualcomm in RAN 5 Meeting ( Sep 2015).
5G Requirement Study at RAN Level

5G Design Study Item : structure of air interface to cover multiple areas

mobile broadband

internet of everything (IOE)

mission critical

high-freuquency range up to 100Ghz

Parallel study on high-frequency channel model ( > 6 Ghz)

LTE evolution to continue (Refer to 3GPP Rel 14 Features)
Main Study Topics in Rel 15
From Jun 2017, early phase 3GPP Technical Specification (Release 15) has been released (3GPP Specification 38 series)
See 3GPP Rel 15 introduction page for the timeline and overview.
Main Study Topics in Rel 16
No official 3GPP document about 5G in Release 16 is available for now, but following is a list of maijor features of Rel 16 presented by Qualcomm in RAN 5 Meeting ( Sep 2015).
Second Phase of 5G : all other 5G components

5G Mobile Broadband Standalone Operations

Mission Critical

mmWave & high frequency range

LTE evolution to continue

Final Submission to ITU for IMT-2020
See 3GPP Rel 16 introduction page for the timeline and overview.