Overview
Following is the list of the main characteristics of 802.11ac. Most of these main characteristics would lead to some addition / modification of PLDC and MAC frame structure. These detailed changes will be summarized in each corresponding sections. If you are not familiar with WLAN frame structure and basic operations I would recommend you to go through WLAN Frame structure and WLAN protocol page first.
As in almost every evolution of every communication technology (except IoT), the major motivation of 802.11ac is to achieve much higher throughput than the previous highest throughput technology (802.11n in this case). I am pretty sure that you will see another technology targeted for even higher throughput than 802.11ac (We are already hearing of 802.11ad).
Then what is the technical strategy to achieve this high throughput ? Overall strategy is also same as other technology (If you have seen the evolution process of celluar technology (e.g, WCDMA -> HSPA -> DC HSPA or LTE -> LTE MIMO -> Carrier Aggregation etc), you will easily understand the strategy. Some of the technologies for this evolution can be listed as follows
More Antenna

More Data Stream

Wider Channel (Wider RF Bandwidth)

Higher Modulation Depth

Larger MAC (or higher) Layer Frame
With the list in mind, if you try to correlate each of these technologies to each items of specification of 802.11ac, it will be much easier to get the big picture or motivation of those specification.
Overall Specification / Requirement
The first key word (fundamental characteristics) of 802.11 ac is
5 Ghz band ONLY !
No new technology can be invented overnight. We all understand this. However, we don't want to wait forever until everything is ready all at once. A common practice in this case is to split those requirement/wishlist into multiple chunks and attack them chunk by chunk. In some technology, they call these chunk as 'Stage' (like Stage 1, Stage 2 etc) and in some technology they call them as 'Phase' (e.g, Phase 1, Phase 2 etc). In 802.11ac, they call them as Wave (e.g, Wave 1, Wave 2 etc). 802.11ac has been evolved as two Waves (at least as of now, Aug 2016) as listed below.
< Wave 1 >
3 x 3 : 3 Data Streams Max

Max 80 Mhz

400ns GI (Guard Interval)

256 QAM

5/6 Coding Rate

1300 Mbps under all of the max condition
< Wave 2 >
4 x 4 : 4 Data Streams or 8 x 8 : 8 Data Streams Max

Transmission BeamForming (based on Explicit CSI)

AP support MU-MIMO

Max 160 Mhz

800ns GI (Guard Interval)

256 QAM

5/6 Coding Rate

3466.7 Mbps with 4 x 4

6933.3 Mbps with 8 x 8
One of the most important keywords in 802.11ac would VHT. VHT stands for Very High Throughput. You would not need any additional explanation on what this means. The meaning is obvious and self-explanatory.
The question is how to achieve VHT and what kind of new frames and protocols are introduced to implement this.
802.11ac support various types of bandwidth combination like 20 Mhz, 80 Mhz, 160 Mhz. Then the question would 'how do they allocate the bandwidth ?'. Statically or Dynamically ?
Static allocation means that Transmitter (Initiator) and Reciever(Responder) negotiate and determines the bandwidth during early stage of connection setup and keep it same until the end of communication (a session).
Dynamic allocation means that Transmitter and Reciever SOMEHOW negotiate/determine the bandwidth in very short interval even during a single session.
802.11ac picked up the dynamic allocation approach. It allows the change of the bandwidth at every transmission.
Then the question is 'HOW ?'. What kind of negotiation they use to determine/agree upon the bandwidth between Transmitter and Reciever ?
Basic Idea is simple. As you see in Data Transmission in Detail section, basic channel acquisition process for all 802.11 is based on RTS/CTS mechanism. 802.11ac use the same mechanism to determine the avaiable bandwidth dynamically. The idea is to split the whole possible 802.11ac band into multiple blocks of basic segments (e.g, 20 Mhz, 40 Mhz, 80 Mhz etc) and perform the multiple RTS/CTS simulateneously across the multiple frequency block. (It is very similary for Carrier Aggregation in LTE). First, the initiator sends multiple RTS accross the multiple frequency block and wait for CTS. If the initiator recieves CTS accross the all the blocks, it can use all the frequency blocks (very wide aggregated bandwidth). If the initiator recieves only a few CTS for the all transmitted RTS, it uses the smaller bandwidth for which CTS is recieved. (Refer to Ref [9] for the details).
In 802.11ac, Following new Frame Types are added to the existing type. Most of New Frametype is for impelementing Channel Measurement and Report to perform MU-MIMO Beamforming.
| | | | |
| --- | --- | --- | --- |
| Type | Type Description | Sub Type | Sub Type Description |
| 01 | Control | 0000-0011 | Reserved (This is changed from existing field) |
| 01 | Control | 0100 | |
| 01 | Control | 0101 | |
This frame is used for BeamFormer (AP) to initiate Channel Measurement Process. (Refer to 802.11ac 8.3.1.20 VHT NDP Announcement frame format for the details)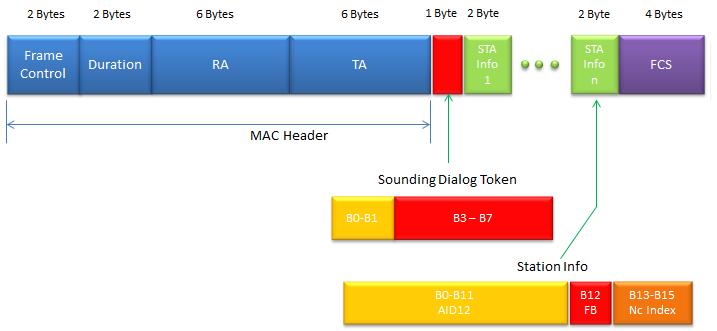 < Field Description of Station Info >
Field

Description

AID12 (B0-B11)

The 12 least significant bits of the AID of a STA expected to process the

following VHT NDP and prepare the sounding feedback.

Set to be 0 if the STA is an AP, mesh STA, or STA that is a member of an IBSS

Feedback Type (B12)

The type of feedback requested.

Set to 0 for SU.

Set to 1 for MU.

Nc Index (B13-B15)

This applies only when Feedback type is 1(MU)

It indicates the number of columns, Nc, in the Compressed Beamforming Feedback Matrix

Set to 0 to request Nc = 1

Set to 1 to request Nc = 2

…

Set to 7 to request Nc = 8
VHT Compressed Beamforming Frame
This frame is used for BeamFormee (user) to report channel measurement result (Refer to 802.11ac 8.5.23.2 VHT Compressed Beamforming frame format for the details)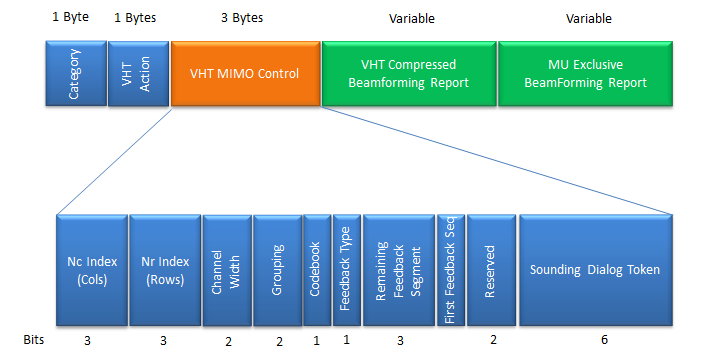 VHT preamble format for sounding PPDUs
Refer to 802.11ac Table 22-4—Fields of the VHT PPDU for each field label.

Channel measurement (sounding) procedures
To perform proper beamforming for specific devices, it is crucial to figure out accurate channel condition between BeamFormer and BeanFormee. To figure out the channel condition, BeamFormer and BeamFormee performs a specific sequence of calibration process and this process is called Channel Measurement or Sounding process. It goes as follows.
Refer to 802.11ac 9.31.5.2 Rules for VHT sounding protocol sequences, Figure 9-41a and Figure 9-41a for the details.
< In case of single VHT BeamFormee >
Step 1 : BeamFormer (usually AP) transmit NDP(Null Data Packet) Announcement frame

Step 2 : BeamFormee (usually WLAN user device) responds to NDP announcement (Other device that are not sepecified in NDP) defer channel access until the channel measurement process is complete

Step 3 : Beamformer transmit Null Data Packet carrying Training Sequence (NDP Frame, VHT preamble format)

Step 4 : BeamFormee analyze the training sequence and send feedback Matrix (Refer to 802.11ac 8.4.1.48 VHT Compressed Beamforming Report field for the details of the feedback matrix)

Step 5 : BeamFormer calculate the steering matrix based on the feedback matrix
< In case of multiple VHT BeamFormee >
Step 1 : BeamFormer (usually AP) transmit NDP(Null Data Packet) Announcement frame

Step 2 : BeamFormee (usually WLAN user device) responds to NDP announcement (Other device that are not sepecified in NDP) defer channel access until the channel measurement process is complete

Step 3 : Beamformer transmit Null Data Packet carrying Training Sequence (NDP Frame, VHT preamble format)

Step 4 : BeamFormees analyze the training sequence

Step 5 : BeamFormee1 send send feedback Matrix (Refer to 802.11ac 8.4.1.48 VHT Compressed Beamforming Report field for the details of the feedback matrix)

Step 6 : BeamFormer send BeamForming Report Poll for next BeamFormee

Step 7 : The next BeamFormee send send feedback Matrix

Step 8 : Repeat Step 6,7 until BeamFormer get all the information for all BeamFormees.

Step 9 : BeamFormer calculate the steering matrix based on the feedback matrix
802.11ac MU-MIMO Beamforming is expressed in a mathematical expression as follows (this is based on 802.11ac 22.3.11 SU-MIMO and DL-MU-MIMO Beamforming)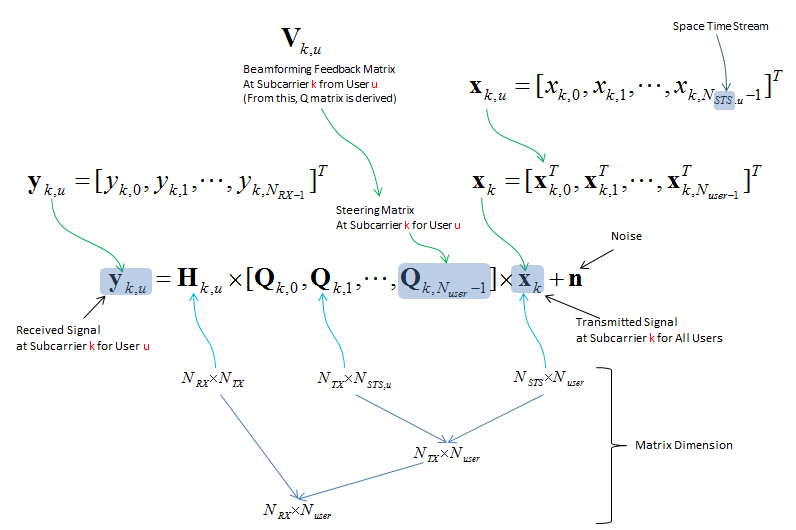 Reference
[3] Understanding IEEE 802.11ac VHT Wireless
[4] 802.11ac Testing with the Vector Signal Transceiver
[5] Gigabit Wi-Fi 802.11ac In Depth (YouTube)
[6] 802.11ac Gigabit WiFi: Fact vs. Fiction (YouTube)
[7] Demonstrating the Performance of the Aruba Networks 802.11ac (YouTube)
[8] Aruba Controller-based and Controllerless Wi-Fi (YouTube)
[9] 802.11ac : A Survival Guide - Chapter 3. The MAC
[10] 802.11ac Wireless Packet Captures
[11] Deploying, Testing, and Tuning 802.11ac
[12] How to validate the WI-FI Information within Wireshark – Part I: Determining the WLAN capabilities