The topics I will describe in this page is higher level measurement(i.e, RRC layer measurement), but this higher layer measurement is based on very complicated lower layer process. It means you need to do a lot of study on lower layer process to fully understand the details of this higher layer process and parameters that will be explained in this page. For the lower layer process related to measurement report, refer to following pages. You would need to go back and forth many times between this page and following pages.
Overall Structure of Measurement Item and Configuration
Measurement process is configured by a very complicated (probably the most complicated RRC configuration) and confusing RRC parameters. I would suggest you to make practice of understanding some big picture of the overall structure before digging into each individual element.
The first step for the measurement process is to determine "what to measure ?". For every measurement process, the physical entities to measure is some kind of reference signal. In LTE, those reference signal for the measurement are synchronization signal and/or CRS(Cell Specific Reference signal). Those reference signals in LTE is structured relatively simple way, so the configuration in RRC message is relatively simple. In NR, the types of reference signal is synchronization signal/PBCH Reference Signal and CSI-RS (As you know, in NR there is no Cell Specific Reference signal. Instead, we use special type of reference signal called CSI-RS).
With Synchronization Signal/PBCH signal and CSI-RS, the measurement item can be catetorized as follows (this is based on 38.331-5.5.1)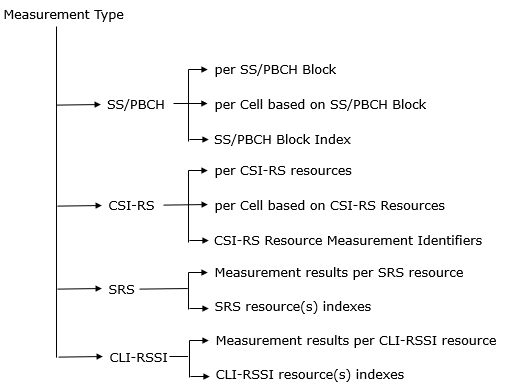 Once the measurement item (target reference signal to measure), we have to determine the purpose of the measurement and various other details. Then finally you have to configure all of the details into RRC message. The overall structure of RRC message structure for the measurement can be summarized as follows (this is based on 38.331-5.5.1)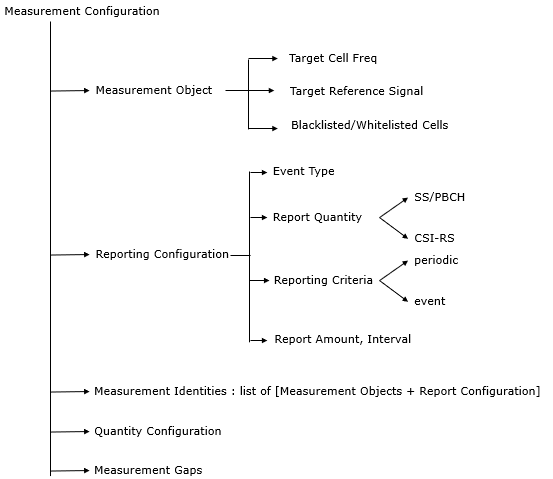 Measurement of NR Cell from LTE Cell
This is an example RRC message for LTE measurement for LTE and NR cell from Amarisoft. The red part is for NR cell measurement and the other part is for LTE cell measurement.
  message c1: rrcConnectionReconfiguration: {
    rrc-TransactionIdentifier 0,
    criticalExtensions c1: rrcConnectionReconfiguration-r8: {
      measConfig {
        measObjectToAddModList {
          {
            measObjectId 1,
            measObject measObjectEUTRA: {
              carrierFreq 300,
              allowedMeasBandwidth mbw100,
              presenceAntennaPort1 TRUE,
              neighCellConfig '01'B
            }
          },
          

{
            measObjectId 2,
            measObject measObjectNR-r15: {
              carrierFreq-r15 631968,
              rs-ConfigSSB-r15 {
                measTimingConfig-r15 {
                  periodicityAndOffset-r15 sf20-r15: 0,
                  ssb-Duration-r15 sf1
                },
                subcarrierSpacingSSB-r15 kHz30
              },
              quantityConfigSet-r15 1,
              bandNR-r15 setup: 78
            }
          }


        },
        reportConfigToAddModList {
          {
            reportConfigId 1,
            reportConfig reportConfigEUTRA: {
              triggerType event: {
                eventId eventA1: {
                  a1-Threshold threshold-RSRP: 90
                },
                hysteresis 10,
                timeToTrigger ms320
              },
              triggerQuantity rsrp,
              reportQuantity both,
              maxReportCells 1,
              reportInterval ms120,
              reportAmount r1
            }
          },
          {
            reportConfigId 2,
            reportConfig reportConfigEUTRA: {
              triggerType event: {
                eventId eventA2: {
                  a2-Threshold threshold-RSRP: 60
                },
                hysteresis 0,
                timeToTrigger ms640
              },
              triggerQuantity rsrp,
              reportQuantity both,
              maxReportCells 1,
              reportInterval ms120,
              reportAmount r1
            }
          },
          

{
            reportConfigId 3,
            reportConfig reportConfigInterRAT: {
              triggerType event: {
                eventId eventB1-NR-r15: {
                  b1-ThresholdNR-r15 nr-RSRP-r15: 76,
                  reportOnLeave-r15 FALSE
                },
                hysteresis 0,
                timeToTrigger ms100
              },
              maxReportCells 8,
              reportInterval ms120,
              reportAmount r1,
              reportQuantityCellNR-r15 {
                ss-rsrp TRUE,
                ss-rsrq TRUE,
                ss-sinr TRUE
              }
            }
          }


        },
        measIdToAddModList {
          {
            measId 2,
            measObjectId 1,
            reportConfigId 2
          },
          

{
            measId 3,
            measObjectId 2,
            reportConfigId 3
          }


        },
        quantityConfig {
          quantityConfigEUTRA {
            filterCoefficientRSRP fc3
          },
          

quantityConfigNRList-r15 {
            {
              measQuantityCellNR-r15 {
                filterCoeff-RSRP-r15 fc3
              }
            }
          }


        },
        measGapConfig release: NULL
      },
Reference
[1] 38.331 - 5.5 Measurement
[2] 38.133 - 9 Measurement Procedure