For the basic understanding on Transmission Mode, please refer to my previous post on Transmission Mode (for Release 8). I would highlight the new TM introduced in Release 10.
Downlink Transmission Mode
You would see new TMs every time you get additional antenna ports being used and they bring some new idea of using those antenna ports. But as far as I see from the several carrier network configuration as of now (Aug 2013), I only see TM3 being used in the field. (Please let me know if you see other TMs being used in the field).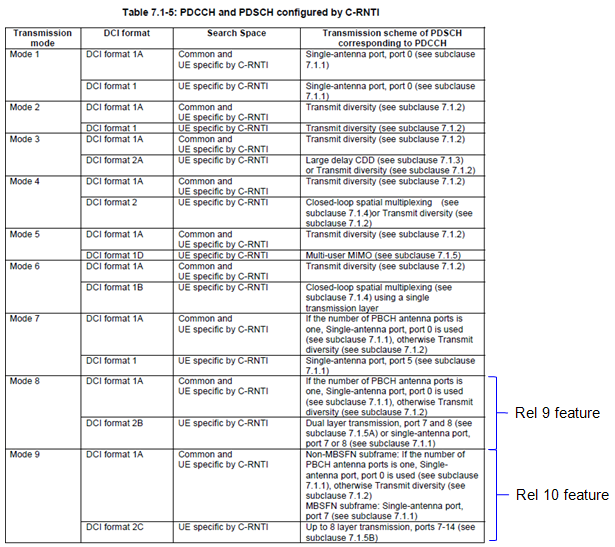 You can find good introductions on TM9 in the following link :
Transmission Mode and Reference Signal (Antenna Ports)
One of the confusing but important thing about transmission mode is to understand the relationship between each transmissiom mode and reference signal (antenna ports). For this, refer to Reference Signal (Antenna Port Number) vs Transmission Mode in Reference Signal (Downlink) page.
Uplink Transmission Mode

Transmission Mode 9
For Beam Forming aspect of TM9, refer to Beam Forming in LTE section.
Field Name

Length (Bits)

Comment

Resource allocation header

1

RA Type 0 or RA Type 1

Resource block assignment for RA Type 0

6 (1.4 Mhz)

8 (3 Mhz)

13 (5 Mhz)

17 (10 Mhz)

19 (15 Mhz)

25 (20 Mhz)

Applicable only when Resource allocation header = 0 (RA Type 0)

Refer to RA Type page

Subset

N/A (1.4 Mhz)

1 (3 Mhz)

1 (5 Mhz)

2 (10 Mhz)

2 (15 Mhz)

2 (20 Mhz)

Applicable only when Resource allocation header = 1 (RA Type 1)

Refer to RA Type page

Shift

N/A (1.4 Mhz)

1 (3 Mhz)

1 (5 Mhz)

1 (10 Mhz)

1 (15 Mhz)

1 (20 Mhz)

Applicable only when Resource allocation header = 1 (RA Type 1)

Refer to RA Type page

Resource block assignment for RA Type 1

N/A (1.4 Mhz)

6 (3 Mhz)

13 (5 Mhz)

14 (10 Mhz)

16 (15 Mhz)

22 (20 Mhz)

Applicable only when Resource allocation header = 1 (RA Type 1)

Refer to RA Type page

TPC for PUCCH

2

See Power Control section

Downlink Assignment Index

2

Only Applicable to TDD uplink –downlink configuration 1-6.

HARQ Process

3 (FDD)

4 (TDD)

Ports-SCID-Number of Layers

3 (FDD)

MCS for Transport Block 1

5

NDI for Transport Block 1

1

RV for Transport Block 1

2

MCS for Transport Block 2

5

NDI for Transport Block 2

1

RV for Transport Block 2

2
Field Name

Length (Bits)

Comment

Carrier Indicator

3

Resource allocation header

1

RA Type 0 or RA Type 1

Resource block assignment for RA Type 0

6 (1.4 Mhz)

8 (3 Mhz)

13 (5 Mhz)

17 (10 Mhz)

19 (15 Mhz)

25 (20 Mhz)

Applicable only when Resource allocation header = 0 (RA Type 0)

Refer to RA Type page

Subset

N/A (1.4 Mhz)

1 (3 Mhz)

1 (5 Mhz)

2 (10 Mhz)

2 (15 Mhz)

2 (20 Mhz)

Applicable only when Resource allocation header = 1 (RA Type 1)

Refer to RA Type page

Shift

N/A (1.4 Mhz)

1 (3 Mhz)

1 (5 Mhz)

1 (10 Mhz)

1 (15 Mhz)

1 (20 Mhz)

Applicable only when Resource allocation header = 1 (RA Type 1)

Refer to RA Type page

Resource block assignment for RA Type 1

N/A (1.4 Mhz)

6 (3 Mhz)

13 (5 Mhz)

14 (10 Mhz)

16 (15 Mhz)

22 (20 Mhz)

Applicable only when Resource allocation header = 1 (RA Type 1)

Refer to RA Type page

TPC for PUCCH

2

See Power Control section

Downlink Assignment Index

2

Only Applicable to TDD uplink –downlink configuration 1-6.

HARQ Process

3 (FDD)

4 (TDD)

Ports-SCID-Number of Layers

3 (FDD)

MCS for Transport Block 1

5

NDI for Transport Block 1

1

RV for Transport Block 1

2

MCS for Transport Block 2

5

NDI for Transport Block 2

1

RV for Transport Block 2

2
< 36.212 Table 5.3.3.1.5C-1: Antenna port(s), scrambling identity and number of layers indication >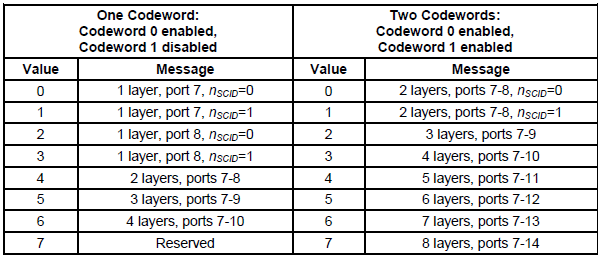 Example 1 : FDD - Format 2C (Release 10) - C-RNTI, SPS C-RNTI - Normal = 7E0000102F2F00

Field Name

Value (Binary)

Meaning

Resource allocation header

0

RA Type 0

Resource block assignment for RA Type 0

1111110000000000000000000

24 RBs

TPC for PUCCH

01

HARQ Process

000

Ports-SCID-Number of Layers

000

MCS for Transport Block 1

10111(23 Dec)

NDI for Transport Block 1

1

RV for Transport Block 1

00

MCS for Transport Block 2

10111(23 Dec)

NDI for Transport Block 2

1

RV for Transport Block 2

00
Example 2 : FDD - Format 2C (Release 10) - C-RNTI, SPS C-RNTI - Normal = 7E0000102F0140

Field Name

Value (Binary)

Meaning

Resource allocation header

0

RA Type 0

Resource block assignment for RA Type 0

1111110000000000000000000

24 RBs

TPC for PUCCH

01

HARQ Process

000

Ports-SCID-Number of Layers

000

MCS for Transport Block 1

10111(23 Dec)

NDI for Transport Block 1

1

RV for Transport Block 1

00

MCS for Transport Block 2

00000(0 Dec)

NDI for Transport Block 2

1

RV for Transport Block 2

01